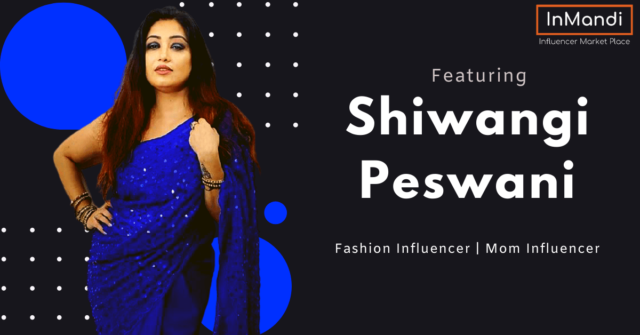 Shiwangi Peswani is a highly influential Fashion Blogger, born in Delhi, she's stayed in Agra for twenty-four years after being married. As a child, she had four more siblings and was the most pampered one. She would wear what she likes as well as carry it with grace, alongside charm!
If a dress was stitched in the family, it best suited Shiwangi. Her brother was very protective and didn't approve her style, he's become more accepting as well as proud of her achievements.
Shiwangi was married at nineteen, having her first child at twenty one. Her husband was the only child in his family, this increased her responsibilities in caring for her in law's as well as her loved one's at home. She's the perfect bahu who got along perfectly with them, she would go for movies and play chess with her husband's mother who was like her own.
Shiwangi was noticed covering herself with a dupatta at her husband's home, being conservative at a point in life. Through his support, her father-in-law has become more accepting with time. Shiwangi believes if you're good at something, everyone will soon trust you.
Shiwangi's truly photogenic, her companion suggested she starts an Instagram account. Her initial blogging was on kitty parties, to which she was exposed through her mother-in-law. But, today she rules social media with her fashion posts! She renders brilliant advice on shopping, hence her family and friends rely on Shiwangi's advice.
Shiwangi's achievements include collaborating with a reseller based in Mauritius when she was at fifteen thousand followers. These followers didn't turn up overnight, it was a gradual process. She puts great effort in her posts.
She's partnered with Tata Tiago in the past to promote their elegant cars. Another wonderful opportunity came through an assistant director in the glamorous Bollywood world. It seemed like a dream, since the movie included Rishi Kapoor and Juhi Chawla. She received an encouraging compliment because Shiwangi was noticed for her phenomenal presence on YouTube.
She understands certain clothes suit her more than others or vice versa. She notes if those clothes are appealing on camera and outside her home. It's with purchase as well as borrow, Shiwangi's unique style is created. She has a stylish home studio to curate inspiring content. Her patience is commendable as it consumes three hours for a post, along with editing.
Her aspirations are a blue tick besides her name on Instagram, for her hard-work and persistence. She would be thrilled to work with in Bollywood movies as well as wishes to continue growing increasingly on Instagram alongside making an impact!Her generous advice is to love yourself. Don't let age limit you. To achieve your goals, first convince yourself, which becomes easier through your family and friend's support. She's successful with valuable research before she steps into a new venture, patience, persistence and the power of her dreams.