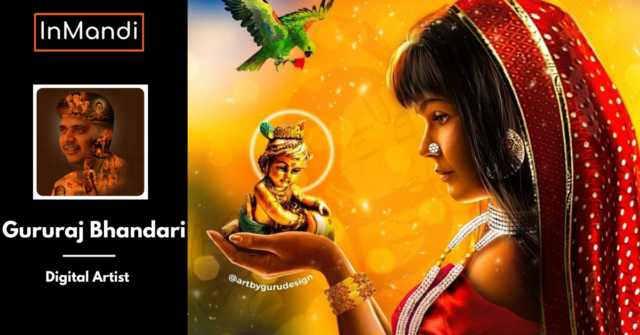 ART FEATURED: Digital Art
Art Form In General : 
Digital Art is primarily created with technological tools and softwares. It is a graphical representation of the art you would like to create. It has fluid boundaries which let the viewers's imagination flow at every extent. It is gaining massive popularity in today's times.
The Graphical Story: 
Gururaj is a keen observer and a technological geek. He is always updated about the new technological advancements and tries to learn all the new tactics. Research according to our artist is the prime element to create an art piece. As we glide through various examples and illustrations, an inspiration stems from them. As something catches our attention we try to display it in our own signature style. Gururaj got introduced to digital art in the lockdown when he was experimenting and exploring new niches. He was quite intrigued by the style and tried his hands on. This art motivated him to create something unique out of the lot and to step out of normalcy. He mainly started creating his art on hindu history as it was his field of interest. He slowly tried creating beautiful illustrations devoted to hinduism and its legends and in a matter of time, his work was admired by many and that kept him going.
Thoughts Behind The Screen : 
Indian roots and hinduism are his favourite muse to create art on. His pieces have a huge tinge of history etched to it which makes him stand apart in the field. He wants people to be aware of their roots and to keep the legends alive. Younger generation need to stay updated about our history otherwise it would fade with time. He tries to amalgamate our culture in his artwork so it reaches a larger audience in a creative way. He weaves a historical legend in his works.
Gururaj's Tale: 
Gururaj Bhandari is a bangalore based marketing professional. He has amassed an ample amount of success in product designing and marketing expertise. By passion, he is a digital artist and tells historical stories through his graphical representation. He has endured fair amounts of struggle on his part to earn the position he wanted. His passion got ignited in the pandemic where he had a lot of time on hand and so he explored to bring out his desired talent. Now, he is weaving thousands of historical tales on his digital canvas.
Two Cents Of Wisdom : 
Gururaj urges all the budding artists to create an original piece of art. He believes that everyone should pave their own path to let people know where they come from. Another trait needed to be an amazing artist is to never stop learning, as learning will sharpen your skills even further. With hardwork and sheer dedication, success will surely knock your door. He quotes Lord Krishna here to justify his statement, " Karm kar, fal ki asha mat kar." this is Gururaj's life mantra as well.
As we come to the end of the segment, here's a quote from his side to the readers, "it is not about the situation you are in, it's about what you do in that situation, will change your life."
AVAILABLE ON: Instagram (@Gururaj_Bhandari )