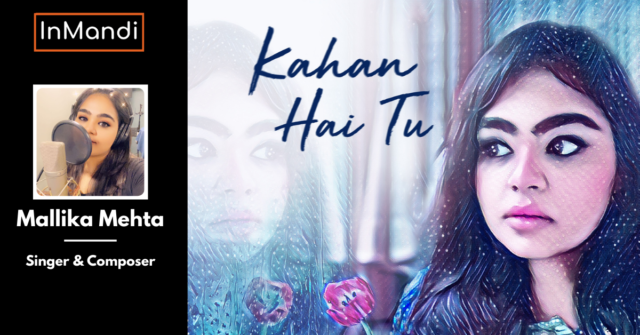 Type Of Art Form: Hindi romantic single – Kahan Hai Tu
Art Form In General:
The song featured here is a hindi romantic single entirely sang, written and composed by Mallika. Single is basically a song released as a solo rather than in an album or as a cover. They are released digitally and can also be used for promotional purposes. It has lesser songs than an lp record or an album. 
Melodious Inspiration: 
Mallika describes that there is always a story and a thought that runs behind creating any artform. There is always a backstory that has given a basic idea for the art as a whole. When our music virtuoso mallika sat down to pen, "KAHAN HAI TU?", monsoon had marked its emergence in Mumbai. It was a pleasant atmosphere around and generating a song in the weather seemed like an immaculate idea. Rains have devoted their basic essence to the song, it is like the primary element. The song talks about the yearning for a loved one who is miles away. It gracefully portrays the emotion that runs behind when you cant meet your beloved. It also makes us realise the importance of having that special someone to make our lives a little easier.
Since it was created in lockdown times, when people were isolated and away, this song acted as an anthem for separated lovers.
KAHAN HAI TU is Mallika's first hindi single but it received love and support in abundance. It reached 100K streams on Spotify and that is a massive success. Also, it received immense coverage from top notch platforms like Times of India. And it was also streamed exclusively on rolling stones.
Behind the Mic And Instruments:
Creation of a song is a long process and it consists of various elements in it. Right from music, lyrics to the voice. Mallika always recorded her pieces in studio and with the lockdown she was bit hesitant to compromise. One impressive fact here is that, she wrote whole song in 20 minutes at the stroke of midnight. She got a thought in mind and penned it down immediately for an extraordinary outcome. All the producers she approached liked her single in the first shot and so she fulfilled her desire to record it in the studio itself. The music is added in by various instruments to give it a unique effect.
Thankfully everything worked out just as she planned it. As the song released, the audience went head over heels on it and people said that the strings hit right to the heart. Mallika was utterly satisfied with the responses and conquered her end goal. Everything felt surreal to her.
Brief About The Singing Maestro:
Mallika Mehta is a Mumbai based singer who has left no rock unturned to taste the fruit of success. She was a child prodigy and has been singing since she was 5 years old. She always had an intense passion for music and loved playing keyboard too. She was always found humming to tunes and fingers playing with her instruments. She recorded her first song at the age of 19 in USA which was named, 'War Solo'. Mallika is a multilingual singer who can sing in 5 languages including Spanish and Gujarati.
A Special Story
One significant aspect etched to Mallika's musical career is her being referred to as, ' ADELE OF MUMBAI'. This story goes back a few years. Mallika always adored Adele and her singing style immensely. She was always fond of her and she also tried to inculcate her skills in the work. It happened when Mallika sang, 'someone like you' and posted it on her Youtube channel, it was basically a cover to Adele's song.
Later, while she was surfing through Google randomly, she stumbled upon Adele's website where they posted everything related to her and to her much surprise, she found her cover there. Her happiness knew no leaps and bounds.
Another instance which contributed to her story was when an American magazine approached her for an interview and when the article got published it was titled, "THE ADELE OF MUMBAI". The word spread like a wildfire in the media realm and she was now recognised by this name itself.
Advice To Budding Artist: 
Mallika advises to initially sing cover songs to improve your own skillset. She emphasis that you have to love your craft as a whole and dedicate your being to it. She asks everyone to understand nuances that lie deeper in the songs. Listening to a song would make you understand the right chords of it. And lastly, she suggests rigorous practice because only then you would excel at your art.
Lets wrap this section by two of her most favourite songs which are rolling in the deep and bekhayali. Both of these say it all for her.
ART AVAILABLE ON: Instagram(@mallika_mehta )
Youtube(@mallikamehta_Youtube )
Spotify ( @Mallika_Spotify )