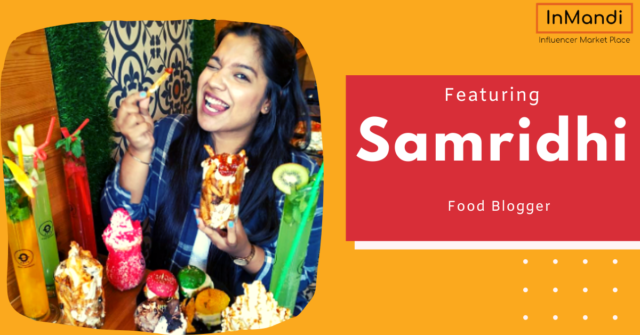 Samridhi, driven by her love for food, explores the realm straight through her heart, which led her to bag a boundless virtual family. An all-rounder in school, a National Sports Athlete, a lawyer by profession, the proud owner of 'Khana Bazaar' is causing a stir as a social influencer. Inspired by his foodie grandfather, Samridhi is a Punjabi by birth and a foodie by choice. Like everyone else's college days, Samridhi also started exploring city food of different nook and corners of Delhi with her college mates back in the year 2017. With emerging applications of the then times, Snapchat and Instagram, the obsession of updating life through photographs grew every single day. Seeing her eternal love for food and pictures, she was then suggested by her closest friends to start food blogging.That is how Samridhi's food blogging journey started with her realizing her passion and creating Instagram pages. She has had her share of struggles while extending her reach; however, today, she is a proud owner of a vast virtual family of 84.9K followers with her page 'Khana Bazaar,' growing every second. Samridhi, more of a Dhaba person, is a lover of North Indian cuisine with favorites such as Laccha paratha, dal makhani, and kadhai paneer, who cannot compromise anything for her favorite dishes.
A National Champion of Discus throw and Shot put, Samridhi had won 45 gold medals and two silver medals while earning the 'favorite girl tag' in her school. Being a lawyer, Samridhi juggles both her profession and passion with diligence. Her court visits could not stop her from exploring food and soothing her virtual family's eyes with picture-perfect captures. She believes as food is everywhere, there is no concern about her profession restricting her exploration of her passion. Presently, by focusing more on cooking homemade food, Samridhi intends to research more about nutrition and explore it through her cooking skills. What differentiates her from the rest is her authenticity and her zeal to stay real! She does not believe in building an unreal strategy to achieve a specific reach; instead, she believes in staying as natural as possible.Moreover, Samridhi, driven by her love for food, is against collaborations and does not feel comfortable sticking to guidelines for promotion. It is because she does not wish to utilize 'Khana Bazaar' as an economic maximization tool. Instead, her page is a testimony to her passion and stresses upon up-scaling the page only to reach out to more followers benefitting from her content. The creation of real content and its delivery makes Samridhi through Khana Bazaar touts to being one of the most loved and trending pages across social media platforms. Samridhi is a social butterfly; however, a lot, particularly when it comes to choosing her food buddies. She hates eating alone, so she shares food with her closest kins. She knows her clan and their food habits well, making it a lot easier to choose a cuisine
Keeping her initial thought of starting Khana Bazaar in mind, Samridhi expresses her wish to open a restaurant or a café with the same name shortly. She stresses how cooking and exploring food keeps her sane and going, which is also one reason why amidst the busy schedule, she still finds time to do what she loves! With an eye on the million follower tag, Samridhi is here to stay and keep influencing foodies to follow their passion by visiting originals!