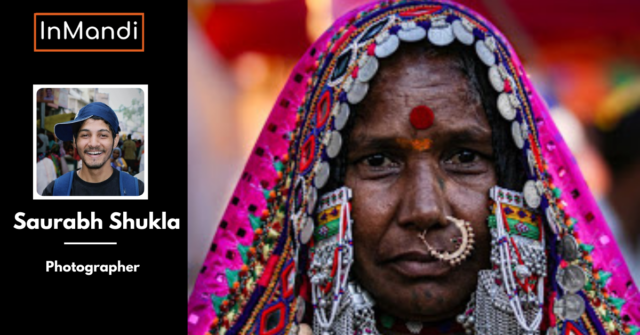 Type Of Art Form: Street Photography
Photograph Featured: Street shots and portraits
Art Form In General:
Street photography is basically capturing the essence of daily life in every artistic way possible. It includes shots of mundane activities or places but with an amazing perspective. And portraits catch the facial expression of the subject in depth in order to highlight the mood and aura of the person.
The Meaning Conveyed Through The Art :
According to Saurabh, street photography is an art in itself and that every situation has meaning embedded in it. He believes that it is a privilege to capture life in normalcy. The reason why this genre appealed to our artist is because it is uncertain and so exciting. One wouldn't know what one will get the next moment and the adrenaline caused due to it is unmatchable. And the portraits captured have an intrinsic meaning to it. Capturing human emotions is art in itself and our artist has done complete justice to the fact. The aim is to shoot the monotonous daily life and give a different aspect to it.
Inspiration That Went Behind The Lens:
Saurabh believes that inspiration can be found in almost everything. Even the most mundane thing has value to it. It takes a keen eye to observe and freeze the moment. Saurabh usually prefers wandering alone in the streets and clicking what others fail to notice. Finding stories is his motto and he tries to weave one where his interest lay. He always tries to interact with everyone on the streets to make them camera friendly and gets the best shot possible. He looks forward to the connection in a story with every single picture clicked.
Brief about The Streetwala:
Saurabh Shukla is a 21 year old photographer hailing from Jharkhand, India. He is a self taught artist and has an expertise in street and travel photography. To him, photography is a pause button for life and he wants to capture everything he can in that 50mm lens. He is pursuing engineering currently and simultaneously polishing his vision and traits required to ace in his field.
Credentials:
Saurabh has earned multiple awards in her picturesque field of photography. He stood as a winner at GoPro Hero9 contest, made it to Top50 in Agora Images and reached 3rd stage in international photography contest. His achievements are countless and he is acing it everyday.
Two Cents Of Advice:
Saurabh emphasises on the fact that don't quit your education. Follow your passion but study along with it. As he quotes, "to broaden your horizon, narrow your focus" and that seems a plausible advice to anyone who wants to pursue their passion. And he also advises to experiment as much as one can because it may lead to new innovations.
As we wrap up this picturesque section here's a last quote coming from our artist which says, 'accept both compliments and criticism. It takes both sun and rain for a flower to grow. Never stop trying, never stop believing, never give up, for that is just the place and time that the tide will turn'.
Art Available on : Instagram (@Saurabh _Shukla)