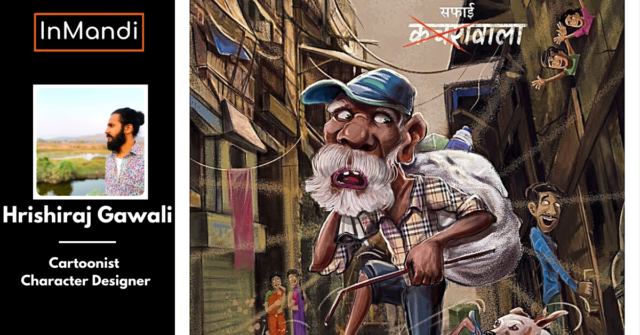 Art Featured: Safaiwali cartoon 
In General: 
Cartoons are simple illustrations portrayed in a comical animated manner. They convey humor and satires through their simple features and moods. They are creative and also include human characters in an animated way.
The Intrinsic Meaning Behind The Cartoon:
Hrishiraj has presented one of the most interactive and influential cartoons here, that is, the "Safaiwala". This illustration conveys a deep message for society in such a creative way. It depicts the real-life setting of how we as a society are demeaning social laborers and our harsh treatment towards them. This art piece reminds us of our wrongdoings towards those people and that it should be stopped now. Hrishiraj extracts his inspiration from daily life happenings and portrays mundane activities in an interesting manner. His illustrations showcase social issues, film industry affairs, and related themes. His cartoon acts as a mirror for society. It stands as a reminder for us and how our actions affect the environment and humans around us.
The Backstory: 
Before creating this cartoon, Hrishiraj spent a lot of time with laborers who work as cleaning agents for our surroundings. He interacted with them about their work and how they get treated by everyone. He gained complete insights about the situation and about them to attach accurate essence to the cartoon. Later, with these digital techniques and equipment, he created the magnificent piece we are admiring now.
Hrishiraj's Musings:
Hrishiraj Gawali is a 26-year-old cartoonist and storyteller. He earned a degree in the field of arts recently and now is working on upcoming Bollywood projects which seems like a big breakthrough for him. He loved cartoon characters since childhood and the feeling of creating art was always blooming in him. His sheer dedication and love towards culture and art drew him closer to creating and is now thriving beautifully in the field.
Credentials:
He won the "70th Cag annual award 2019" as a cub illustrator of the year of his safaiwala illustration.
Two Cents Of Wisdom:
Hrishiraj has a piece of subtle and motivating advice for all those who want to pursue a career in digital media; he suggests everyone to have a signature style of their own and to depict a story through their work. According to him, art is the vent to express your thoughts, feelings, and yourself.
As we come to the end, here's a quote from Hrishiraj's side; "build your own dreams and never give up" which is truly a life lesson.
AVAILABLE ON: Instagram (hrishiraj_gawali )