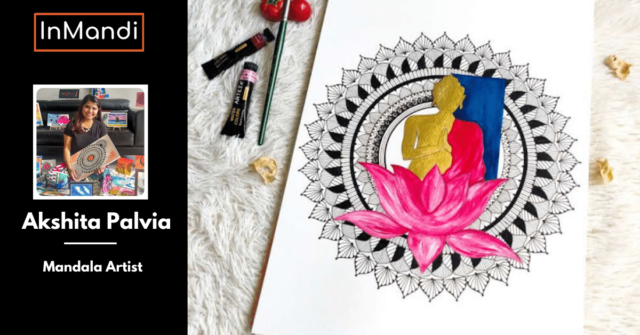 Art Featured: MANDALA
Art Form In General:
Mandala is an art form which is therapeutic and is practised since ages. It is basically a pattern which is related to cosmic and has various symbolic meanings etched to it. They look alluring and also hold an intrinsic meaning in it. It helps in increasing concentration. Mandalas are associated with sacred symbols used for therapy, healing and meditation.
Intrinsic Meaning Of The Art Created: 
Mandalas come in various forms and patterns. Akshita particularly focuses on circular layouts because it urges her to concentrate and she feels connected to it. Mandalas hold a salient place in her life and work. Circular symmetry appeals to our artist because the outcome is fascinating and how similar patterns combine to form a totally different piece. It appears aesthetically pleasing. Akshita tries to combine various art forms and that truly emerges out as a masterpiece and she keeps on experimenting every now and then.
What Goes Behind Pen And Brushes : 
There's a great deal of thought process that goes behind creating a piece of art. As Akshita states that it starts from conceptualising a painting to detailing every little aspect and finally the flamboyant output that comes across. Also, when it comes to social media she posts the raw photographs only without any filters or editing. It requires a lot of patience and dedication to work on mandalas. It needs to have correct precision and blending patterns for it to look attractive and eye pleasing.
Akshita also talks about how much effort is required when you upload your artwork on social media. It takes a great deal of perspective and tech skills to ace the game. She tries her best to shoot everything in natural light to avoid any colour manipulations.
Brief About The Artist :
Akshita Palvia Negandhi is a lawyer turned artist. Art to her is therapeutic and work is worship. She keeps on experimenting with different mediums such as charcoal, oil, pencil or acrylic. She aspires to learn everyday and become better at her precious art. Her creations for the art began 20 years back but she took up full time in 2019 after quitting her job and shifting to Kuala Lumpur.
Credentials :
Akshita has been honoured as therapeutic art life coach by Udemy which has encouraged her to be level best at her work.
Hues Of Significance For Budding Artists S:
Akshita believes everyone is an artist with their own uniqueness. She advises to learn and improve everyday and to try new and new techniques everyday. One's goal should be to be the best artist they are capable of being. If that means earning your living from a day job, while moonlighting as an artist, that's perfectly fine as she adds. Always have realistic expectations as to how much effort and practice it will take to become the best artist you are capable of becoming. Lastly she emphasises on the fact that passion is all that matters.
ART AVAILABLE ON: Instagram(@artypants_ap)