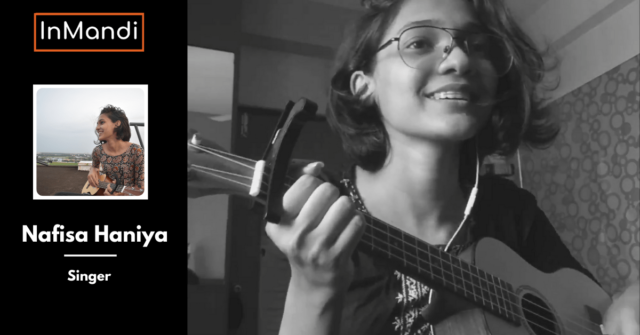 Art Featured: Vocals 
Art Form In General : 
Vocal singing is a song or a cover sang accompanied by an instrument and etching singer's personal essence to the song. The piece is adorned with singer's own chirpy voice and their own flavours to make it stand out from the crowd. 
Inspiration Behind The Strings And Tunes:
Nafisa's desire to record songs stemmed from the experiences she had when she was of a tender age and also from the observations she made since she was a kid. She always had a knack for singing and she used to pick up the tunes faster than anything else. She listened to songs on loop and was always found humming her favourite tunes. She used to create melodies in her mind and later executed them in her personalised style which appealed her audience a lot. To Nafisa, midnight's are her muse, that's when she is at her peace with herself and is able to record euphonious songs. She feels that her best covers are taped her finest pieces. According to her, her emotions are at their optimum level which helps her bring out the desired outcomes and the music births from her heart and soul. She always matches her own feelings with the song which makes her art special and distinguished from others in the niche. Singing to her is her way of expressing in front of the world.
Ideation Before Composing : 
Nafisa is wholeheartedly dedicated to her art and it is evident in her pieces as well. As she quotes that a lot of patience and focus is required to catch the right tune and composition. She rehearses her pieces lots of times before finalising one because practice refines your work and you deliver the best content to your audience. Nafisa posts her work on social media but she doesnt see this as a task, rather it is an enjoyable experience for her. Her parents have always been supportive of her and that has helped her enrich her work more and more. A thought process goes behind the whole scene and later it includes music, fine tuning, mellifluous voice and the perfect mood.
Brief About The Vocalist : 
Nafisa Haniya is a vocalist from Kochi, Kerala. She loves creating music and always keeps on experimenting to bring out the versatility of her voice. She listens to other's work as well to learn from them and sharpen her skills as well. She is a self trained artist and her determination towards her work makes her excel in her field. She always had a knack for music and was always a performer at various events since a young age which helped her boost her confidence. She has gained new insights in herself through her music. She always keeps on exploring because she believes that there is a vast world ahead and there's a lot to learn. Also, she has bagged various credentials at regional level.
Music Notes For Amateurs : 
Nafisa advises to stay dedicated towards your art but not at the cost of your mental health. She adds that be passionate about what you do and not take it as a burden. She highlighted the importance of being consistent and practice to ace up the game. She believes that music comes to you when you are at peace with yourself and that's the most important advice to think upon.
Lets conclude this melodious section by a quote from her which goes like this, 'Doing what you love is way easier trying too hard to love what you do.'
AVAILABLE ON: Instagram(@Nafisa_Haniya )