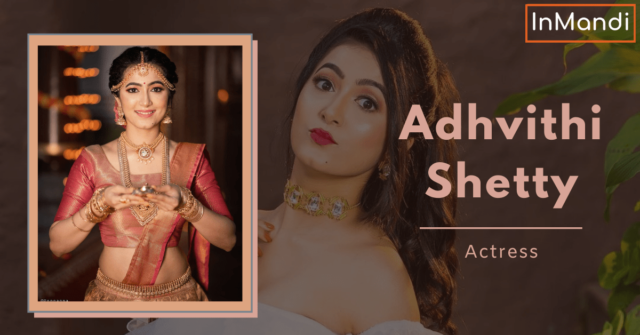 For some, becoming an actor is a dream. They plan their career from their early years. They amp up their acting skills by enrolling in acting programs and dance schools. Adhvithi Shetty, a famous Sandalwood actress, is not one among them. She became an actress accidentally. Did success come to her easily? Was it a cakewalk? Let's dig in to know the answers.
Human Resources To Sandalwood
Adhvithi is an MBA graduate from Manipal Academy. She specialized in Human Resources and took up a job. She is a professionally trained dancer, and she was the title winner of the Grandeur International Dance Competition. She was also an athlete in her school and college days. She was in all competitions in her school and college days. Be it quiz or music or fancy dress or anything she was there in it. She was a multi-talented person, but she never dreamt of becoming an actress. She says she never knew that she could act until she stepped into the filmdom.
Her debut in the blockbuster movie Mr and Mrs Ramachari was a pure accident and was unplanned. The movie needed twin sisters for supporting roles. Her twin sister Ashvithi took her for the audition, and to their surprise, they were selected for the role.
Every step was tough.
She had to make a few important decisions in her life before stepping into the world of cinema. She had to give up her job, and she had to convince her parents that what she was doing was for her good. She faced the same problem with her dad when she participated in a dance reality show. She convinced him by proving that she was best in what she did. She was confident that she could do the same thing for acting too. She just had to show that she was good at acting and her parents will surely wave a green flag.
She says every step that she took was tough for her, but she didn't have any second thoughts, and she took every step with lots of confidence. She started to groom herself in all ways. Her mother tongue was Tulu, a Dravidian language and her Kannada was not perfect. She had to improve her Kannada as she was serious about acting in Kannada movies, but she didn't want to look back after stepping in. She had to put up a lot of effort to be a successful actress, and that's what she did. She crossed all hurdles by giving her best in whatever she did.
What brought the best in her?
When this question was put up before her, she answered: "It is not positivity that brought the best in me. It is the negative comments from others. People who said I couldn't do something made me perform better. My failures inspired me to do better."
She says,' When people talk negatively about you, don't waste time to explain to them what you are doing. Just do what you love to do. Go ahead, and you are sure to succeed."