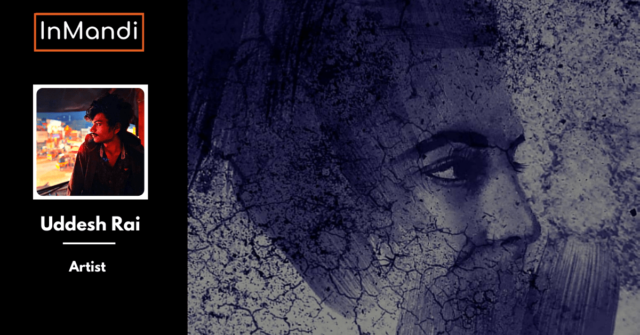 Type of Art Form – Charcoal drawing
Art Featured– Charcoal on paper.
The imagination behind this aesthetically pleasing art:
Uddesh never keeps a pre-planned notion in his mind to initiate a craft. His realistic style of art-making is much more expressive and spontaneous than what people try to achieve by forcing themselves to draw. In this abstract, too, Uddesh speaks about how he drew this charcoal painting with blankness. He feels super happy when he bumps into significant ideation.
For him, authentic and genuine art is a ramification of meditation. Meditation is a vital tool to process the flow of your peaceful and beautiful actions. He just needs to clench any sort of pieces of equipment that would serve him and a prepared canvas. Uddesh also talks about his beautiful alliance with the canvas. He says that he builds a conversation between him and his canvas to paint his insights. The moment conversation escalates, Uddesh will come up with such beautiful and artistic abstracts.
The motivation behind this art:
Inspiration can be found anywhere, and nature stands true to the statement. The flaws appeal to him because they have an inner beauty to it which needs a little attention, and when unravelled, it turns out to be a gem. Whenever Uddesh starts creating art, he keeps nature in psych.
It's not about the rounded lines, the fractions, the shades. But it's that straight line when there should be a round figure. It's that break where it should be smooth. It's that faded spot where there should be a solid colour. All these imperfections inspire Uddesh to uncover this form of creativity.
Brief about the artist and why abstract digital as a profession:
Uddesh is a visual and visionary artist, born and raised in Mumbai, India. His artistic journey started by being inspired by his mom. At the age of 12, he started drawing and designing. He began enjoying his hobby of drawing and thought of spinning this passion into a profession. Uddesh kept embracing his "imperfect but beautiful" artwork and revealed an artist in him.
Currently, he is studying VFX Prime from Mumbai. His belief 'Imperfection is my way of expressing life, and the human condition' indeed illustrates the impression behind his beautiful abstracts.
Shedding some wisdom for upcoming artists:
Uddesh believes that inaction causes doubt and fear. Action will always give you confidence and vitality. If you want to conquer fear, do not sit home and think about it. Go out and explore! Always remember that nothing in life is perfect, permanent or finished. Do what you love. And construct your own style of reflecting your passion. He quotes, "Suffer the pain of discipline or suffer the pain of regret."
Uddesh wraps up with the wisdom of art for budding artists that, 'Art is a unifying, cosmic language based on spirituality, and altered states of consciousness.'
Art Available on – Instagram (@uddesh_art) (@charcoal n me)