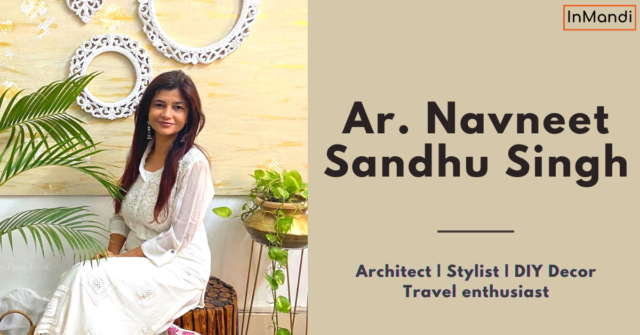 You can't calculate success in life by money, status, or power rather than the satisfaction and happiness it gives when you achieve something of your choice. This particular definition reflects in many people's life experiences though there might be many meanings given to the word. This article is the story of an Architect, Designer, and influencer of modern youth for all people, especially those aspiring to be well-known in design; this is for the people who motivate and inspire you for your chosen path.
From an architect to owner of a business
Navneet was an Architect by profession and pursued her Master's in the same field. She worked in several firms and taught as a professor in Architecture at the college of Delhi. Her passion for the work and God-gifted innate abilities are added benefits in addition to the working experience. After years of experience, Navneet decided to use her talent and exhibit a new style of design.
Belonging to an Army family, she explored many places with various cultures due to repeated transfers. It was also a challenge as she couldn't establish her own office. But Navneet was never disappointed in this aspect and utilized all the opportunities related to the field wherever she traveled. Navneet also says that her designs reflect inspiration from the different cultures that she came across during her travel and the limited resources available in many places. One talent that can be attributed to Navneet was reusing old materials in the home.
A Beginning
Now for many people, Navneet means Best Decor of the year 2020, 47,000 plus followers, a famous and well-known designer. These were not achieved by her out of a blue moon consistent efforts; it was her passion towards the work that resulted in success. Being a daughter and wife of an army officer, she had many responsibilities to fulfil. Initially, it was started as a blog when her friend suggested recognizing her innovative ideas. One fine day, she decided to display her talent on Instagram's social media platform, where a huge response was received. Her page was named Design Decor Travel, through which a relation between travel and design was drawn.
Navneet also strongly believes that Design and Travel are co-related as per her experience. She has been awarded for her writing on the relationship between travel and architecture.
In addition to the home decor and designs, she promotes hour activities such as Organic farming, which has been followed as a custom in her family.
Writing and Blogging are also like her family. Navneet encourages all other kinds of arts as part of it and shares artists' works frequently on her site. When questioned, she stated everyone must encourage arts, recognizing the skill that it involves. This shows her respect and dedication towards the profession.
At present, Navneet is happy and satisfied with both work and personal life. She has future goals to utilize her talent for design in her native place with a permanent setup. Navneet's Journey is the best example to learn many lessons. She grabbed all opportunities and made consistent efforts. If she felt that it was late to start in the forties, her story would have ended there. Her belief, passion, and consistent efforts contributed to the cause. So, it is never too late or there is no wrong time to start anything to achieve your dreams.