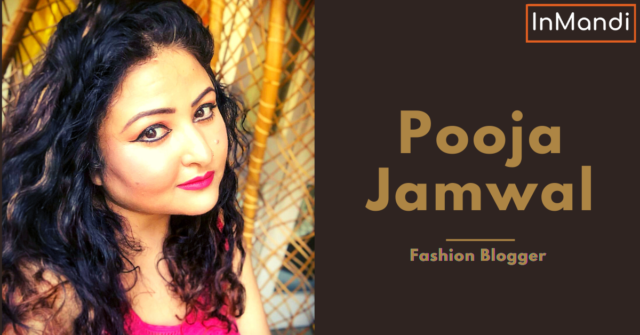 She doesn't give a damn about what you think of her. She uniquely mingles fashion with writing to bend some of the society's women-centric rules, and give it an optimistic turn. She is immensely comfortable in her skin, and inspires others to be too.
She is Vashi, aka Pooja Jamwal- the blogger who is more infectious than a virus! She makes sure to infect whoever she meets with positivity and love towards self, others, and life.
A look at her blogging site and Instagram profile, and you know you are going to be showered with gallons of feel-good spirit and life-changing thoughts. The credit goes to her contagious vibe, captivating pictures, and heartfelt posts.
The one thing that makes her so appealing is her mission of breaking stereotypessurrounding gender-biased outer appearances, and other social stigmas. She is all for a human's talents, emotions, and the ability to do wonders for the self and world.
A trained classical, folk, and western dancer, the latter learned from Shiamak Davar's company and Saroj Khan, Vashi has enjoyed being on stage since childhood. She hails from Jammu and Kashmir's royal Rajput clan, with a background in defence; and considers herself a soldier, albeit of a different kind. She chooses to show her love for her country and raise her voice for its causes through her stage performances and poems. She is a student of literature and psychology, and has earned gold medals in the subjects. She is a post-graduate in English literature! And, she is a certified yoga trainer too!!
Her Instagram profile goes by the name of Tales of That Pashmina Girl. Vashi has an interesting story to share behind the name. The name stands for her love for weaving stories out of everything she hears, sees, and experiences. And the silky soft and design rich pashmina stands for her home state, along with revealing her innate emotions of tenderness, and the ability to tell tales that need to be heard.
When you look at her blogs, one theme captures your attention the most; Womanhood. Pooja is inspired by other women. The thought-provoking and inspiring poems are uplifted by her stunning, womanhood-embracing pictures.
Vashi has a simple mantra for accepting herself as she is. This could be inspirational for so many ladies, and even men dealing with body issues. First, she says, "I have understood I have a certain body frame; no matter how much I work out, it is going to be that way. Second, your health does not depend on your body weight. If you are exercising right, and not facing any health issues, are not lazy, and religiously working towards your mental and physical wellbeing, then you are as fit as you can be."
Today, she might be a fashion and body positivity influencer for many youngsters, but this body and mind positivity didn't come to her easily. Pooja had to go through some dark times, including body shaming, that made her question society's prejudice against women's body size, color, etc. She boosted her morale by looking at her inner beauty and talents rather than concentrating on her outer appearance.