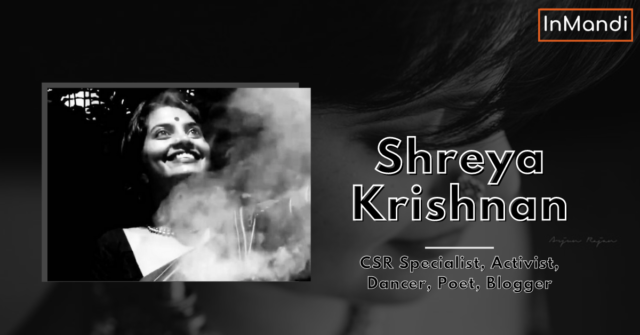 Shreya was a science student but knew all along that she did not want a career in science and engineering. She always had a passion for environmental activism and pursued her studies in Environmental Science. She also pursued a Journalism and Media program and a Literature degree in contemporary fiction during her undergraduate studies. This was because Shreya loved writing and activism. She combined both interests and wrote about issues that were personally interested and affected her.She participated in multiple cultural events and, after graduating and got her first job as an intern at The Hindu. She worked for three years and then decided to pursue her master's in mass media and was the university gold medalist. After that, she chose her career path as Marketing and Communications. She soon founded her own company called Onyx Communications, which dealt with content creation, freelance writing, marketing, communication, etc.
Among her other achievements, Shreya has also worked as an anchor at over a thousand events. She is also a soft-skills trainer related to communications. She has taught at schools and colleges as a visiting faculty member. She worked in many different areas but settled into a mainstream job in 2012. She is also a Corporate Social Responsibility expert and sits on the advisory board of several organizations and companies.Shreya has always been comfortable on stage and has been performing since age 5. This is why she also started doing pageants. Shreya believes that pageants are no longer about looks. Personality and grooming are more important. She believes that she could win all the pageants she participated in because of her confidence and personality.Apart from all her stressful activities and responsibilities, Shreya loves to dance and calls it her stressbuster. She is trained in several dance forms and even had a dance studio of her own. She says that she works round the clock, and whatever free time she gets, she likes to spend it with her daughter. Shreya has also written a book called 'Words Matter: The "Language" that girls need to speak.'
Personally, Shreya doesn't like to think of herself as an influencer. She believes that she is just sharing stories and snippets of her life with people. Shreya's advice to people who look up to her is to be financially independent and empower each other. She believes all decisions should be informed decisions and not made just because of advice received from someone. Professionally, Shreya believes it is important for young people to find a mentor in their career who can guide them. Age is not a factor to be eligible for work, and for Shreya, it is all about talent and exposure.
She believes that no one apart from her support systems or her bosses have the right to give an opinion about anything in her life. Shreya says that she does not seek permission but instead informs people about her decisions and makes her decisions all on her own.