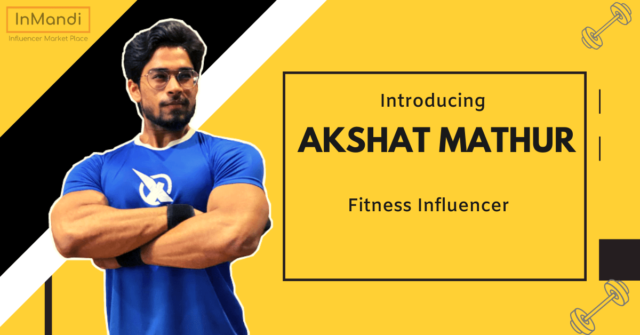 Having a massive fan following on Instagram at an early age of 23, Akshat is an ISSA certified trainer, gym wear brand 'IronX 'co-founder, and a role model for anyone battling fitness struggles. His journey from an underweight figure of 40kgs to a supreme body of 76kgs is the result of relentless weight training, nutrition study, and a 'never give up' attitude.
For the past 3 years, Akshat has trained 1195 clients and hums the song 'Superhero by NCS' to give his mood a motivation kick.
Arnold Schwarzenegge: Akshat's Role Model!
From schooldays, Akshat was a basketball player and enrolled in a gym at the age of 13 as he was underweight. His gym was a 'rough and tough' one having iron rods and traditional equipment which lead to a tiring workout.
At his gym, Akshat got inspired by a picture of renowned bodybuilder Arnold Schwarzenegge and purchased his book ' encyclopedia of body-building'. He says "I was inspired not just by Arnold's bodybuilding skills but his talents of clubbing business with fitness and all his achievements including his governor position." Keeping the same zeal alive, Akshat turned every leaf to accomplish victory in his fitness journey.
His friends motivated him to join Instagram in 2013 and within just a few months garnered 2K-3K followers due to his inspiring posts. At a young age of 18, he was invited by Whey Protein for an event and got a free supplement box with his name imprinted on it. That was the eye-opener when Akshat realized he wants to turn fitness into his profession!
Overcoming the Impossible Hurdle: An Incurable Spine Injury!
Akshat enrolled in an engineering college in Jaipur following his parent's advice but his heart always belonged to fitness. He remarks that as the most depressing phase of his life.
All troubles flood together! So was the case with Akshat. During the same year, he was hit by a life-changing 'Spine Compression Fracture' and doctors had told him to give up hope on his fitness profession. With his girlfriend's constant motivation Akshat rose to fight these difficult times and created a miraculous result by recovering in just 6 months.
Back in force, Akshat enrolled in the ISSA program to become a professional trainer and remarks health nutrition study as a necessity for all aspiring fitness professionals.
Another struggle he faced was during his early gym days "My basketball coach was a National Level player due to which I got great training but Ajmer did not have any good gyms and that affected the quality of my gym sessions" he says.
Facing the most challenging struggles at every phase of his life made him stronger rather than weaker which should be an inspiring life lesson for every individual.
Fitness Guru is First an Entrepreneur!
Akshat calls himself an entrepreneur before being a fitness professional! Along with his girlfriend and best friend he founded the online clothing brand IronX in 2017 which offers gym wear apparel. Akshat's plans include launching an IronX store and opening a gym. He believes that everything is possible with hard work, always wants to inspire the youth, and misses the now banned Tiktok platform where he had 8 lack followers.
His message for all youngsters is "Be deeply in love with your work and automatically your work will become your center of happiness. Whether you are earning 10 crores or 10 thousand, the happiness out of every penny should be boundless! Make your work your passion and success will follow."