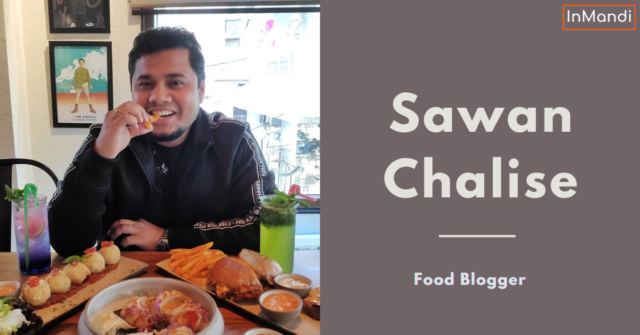 The food industry is expanding to leaps and bounds recently and there are hundreds of food bloggers who are churning out their income from it. You require a certain amount of expertise to ace in any field and this formula applies equally to food blogging too.
Introducing Sawan Chalise, a connoisseur who is tempting every one of us on social media by posting those mouth relishing delicacies. When asked about his journey, Sawan has a beautiful tale to share.
Sawan's roots lie in Nepal but he has been born and raised in Delhi. He spent his childhood in boarding school in Andhra Pradesh. He claims that he is a content writer by profession and a food blogger by choice. Initially, he started reviewing, and soon enough he got indulged in social media charmed by its grandeur and plethora of opportunities it offered. To start his stint, he posted reviews of various cuisines and restaurants on zomato and trip advisor. When restaurants used to showcase his review on their sites, he used to feel a tinge of happiness and enjoyment in his soul and felt that his work got recognized.
Soon, his passion and knack for reviewing made him constantly pour out content for his Instagram handle, named, Delhigrapher. He set his boundaries across Delhi for the starting phase and then gradually started traveling and covered various cities and their famous cuisines. He shares that his wife, ( then girlfriend) pushed him to expand his horizons and venture out of his city. He credits a fair amount of his success to his wife who has always been his constant support. One interesting fact about Sawan's Instagram is, he also posts cooking videos that are delicious enough to make our mouth water.
Sawan firmly believes that food bloggers are significant influencers because they provide meticulous insights about various delicacies and there is 100% transparency in this field. Food bloggers are thriving massively these days and are working relentlessly to provide the best suggestions for their audiences. Sawan spilled beans on how the media influencer space works. He describes that stepping into social media influencers' space is hectic and requires patience in abundance. Growing on social media platforms is tough and draining as it asks for a lot of dedication and energy. Also, the uncertainty of surviving is a discouraging factor. Sawan's formula of acing his game on social media is, posting content regularly and to devote his everything to bring out the best and unique content. Once you make your mark, the perks are lucrative but hard work is the only key to reach that point.Digging into his personal life, Sawan narrates that he absolutely loves spending time with his family and friends. His family is extremely supportive of his career and he is grateful for the fact. He is always delighted to take his family out for food hogging sessions and also they are all north Indian and north eastern food fanatics. When talked about the recent nationwide lockdown and how it affected him; Sawan states that it was then that he stumbled upon the idea of sharing his cooking recipes with his audience. Initially, it clicked and did wonders with his page but gradually everyone around opted for the same plan and it got normal. Now, as the restrictions are lifted, Sawan is back at exploring and is trying out new mouth relishing and lip-smacking food items.
As we conclude, Sawan emphasizes that he also tries out various editing and photography techniques to etch the essence of the finger-licking photos of food he posts on his Instagram. There is one life lesson that Sawan has absorbed throughout his journey, " Just don't fall for it. Research and take action."