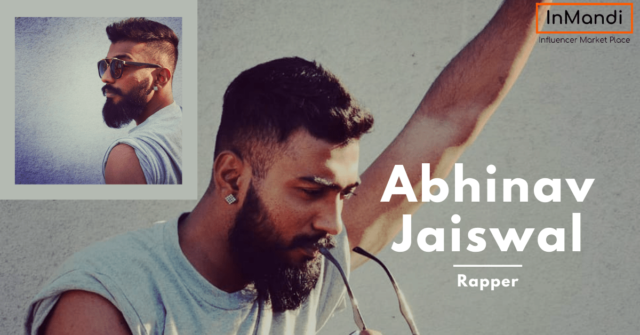 Abhinav Jaiswal, better known by his stage name Abby J, is an up and coming rapper in India with a successful rap music career. His Instagram describes him as a rapper, lyricist, songwriter and poet. Currently, he has 1222 followers on Instagram and his handle is @abbyjmuzik. He releases all his new music on his YouTube channel. He frequently collaborates with other artists.
Abby started making music professionally in 2017. But his first few songs didn't get any recognition and went unnoticed. His first song that really took off was a Punjabi song he released with the label Juke Dock. The song got almost 1.5 lakh plus hits with it being out on YouTube, Saavn, Gaana.com, etc.
During the lockdown, there were many technical problems with going to a recording studio and shooting videos for his songs. Abby had help from his friends, who told him they could shoot a video at home too. Normally his videos would have a commercial touch to it with cars and background actors, but due to the lockdown that was not possible.Though Abby has some brand collaborations, his music videos are made independently and not by any sponsors or labels. The sponsorships that he does get are not very high amounts, and mostly around 25k to 30k. The sponsorships depend on his songs' reach and how many plays they get. Most of his songs on YouTube have one lakh views at least.Talking about his inspiration, he mentions rapper Badshah. He is inspired by the style and format of Badshah's music and videos. Abby tried to add some of Badshah's style and flair to his videos. Some of Abby's other influences are underground music and party songs. He has been following the works of Badshah, Honey Singh, Raftaar since they started and that is what influenced him to become a rapper. Now that they have grown and become popular, the whole genre of rap in India has also gotten more recognition. Abby does not consider himself an underground rapper but he has written some underground rap music. One of his best songs, 'Karma' is written about social issues – he likes writing such pieces with a message.
Talking about whether his family was supportive of his career path or not, Abby said his family was fully supportive of his decision. He moved to Pune for a job and then decided to pursue music on the side. Even now, he works a corporate job and does music part-time. When he had started his music, it was hard for him to balance work and music alone. But now he has a team to help him and share the workload. He is the co-founder of Urban Beats Productions.