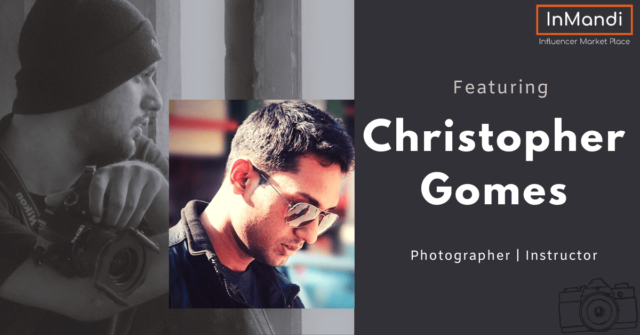 Chris Gomes is a photographer in India who has acquired 24.9k followers on Instagram. Chris's work has been featured on National Geographic, The Hindu, Bucketlist, Weekend Trivia, and The Today.Talking about his journey, Chris says that he got started with a point and shoot with his camera as a child and made photography his passion. He only bought his first professional DSLR camera when he started earning. Chris says that while many other people might have had their parents gift them their first professional cameras, he did not have that privilege. For this reason, he calls it the turning point of his life. Within a week of his buying a good camera, he got recognition and appreciation for his work .
Though he has only 5 years of experience as a professional photographer, his sheer talent has put him ahead of many of his competitors. He didn't want to be a wedding photographer or a commissioned photographer. He has also declined offers for commercial opportunities, which he felt would negatively impact people, such as cigarette brands. His desire to do something different was fulfilled when he met photographers who wanted him to work with them and teach photography. Chris knew his heart lay in teaching photography because he was extremely passionate about the subject and loved talking about it.Once he knew he wanted to teach, Chris started doing workshops with many companies. He worked on almost 1000 seminars online and in classrooms, before realizing he wanted his workshop. He had noticed that people didn't have too many scopes to learn about photography in detail. Once again, his penchant for doing something different kicked in, and he decided to establish One on One, which has grown to become India's top private photography workshop. The charges for joining are also quite affordable. Chris believes that in India, scopes for learning photography are limited, and there is no personal coaching or training.
Chris's workshop is different because he trains his participants and students. He only conducts the workshops on a one on one basis. He believes that he can spot mistakes of his students easily and can rectify them if he can give them individual attention. The amount of knowledge he can pass onto his students in just 4 days is much more than what they can learn in a conventional class. He has got great feedback from the participants of his workshop.Chris believes that what he teaches gives his students an edge and hones their skills further. To gain more knowledge and teach better, Chris says that he likes to attend the photographer's workshops, he has been inspired. Knowledge can be gained from anywhere, and Chris doesn't restrict his learning to any one genre. He can learn techniques from several photographers of different genres, and his work reflects that. Chris is a landscape photographer, but he says that his work reflects aspects of street photography and wildlife photography.
He has traveled to different parts of the country like Jharkhand, Kerala, Ooty, Hampi, Chennai, Andaman, and the Nicobar Islands. Chris's ambition is to become a mentor who can train people to become great photographers. Talking about how his parents and childhood friends reacted to his success, Chris says that they still do not make a big deal out of it and don't treat him like a celebrity like many others tend to do.