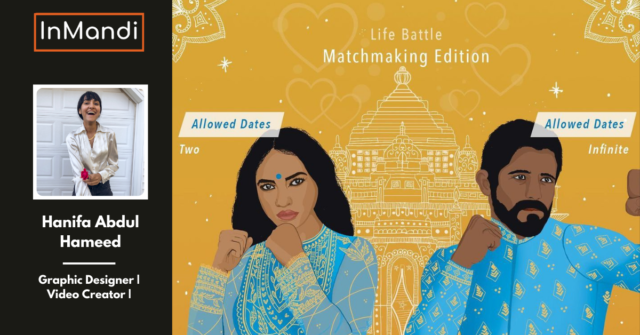 ART FEATURED:
Digital illustrations
IN GENERAL:
Digital illustrations are basically computerized graphics created by using various software and tools under the direct manipulation of the artist. They are highly creative and vibrant and can be made freely according to our imagination.
THOUGHTS THAT GLIDE THROUGH DIGITAL CANVAS:
Hanifa shares that art has always been a piece of her flesh. She loved playing around with graphics and in this coronavirus lockdown, she tried her hands on illustrating. Her inspiration stems from a lot of things. According to her, artistic inspiration can be found everywhere, one needs accurate observation skills to replicate it by infusing their style on the canvas. Hanifa's notable share of inspiration arises from fashion, things like textiles, patterns, and colors intrigue her and they are her muse. They weave a world of imagination around her and she creates her art from it. She looks up to artists and designers like Frida Kahlo, MF Hussain, Gustav Klimt, and Valentino for inspiration and learnings. Through her art, she wants to spread strong messages against the prejudices relating to women. She wants to awaken the world by making an impact through her fashionable and fierce illustrations.
BEHIND THE FANCY VISUALS:
When asked about the creating process, Hanifa states that she uses multiple software to create her pieces. She juggles between her iPad and laptop. She uses software such as Photoshop, Procreate, and Premiere Pro. she further adds that documenting her process is hard because it is not streamlined. She simultaneously uses various tools and software to bring out creative output. A fair amount of knowledge and tech-savviness is required to handle this form well. Along with this, a plethora of imagination and creativity needs to be constant in the process.
ABOUT HANIFA:
Hanifa Hameed is an Indian American residing in New Jersey. She is an avid traveler and has traveled extensively around the world. She wanted to pursue fashion designing but instead of that she stepped into the creative field and started UI/UX Designer and a part-time illustrator. She is rigorously churning out content for her social media as well which is a delight to go watch and admire.
FOR UPCOMING ARTISTS:
She has a few bits of advice for all the beginners. She suggests everyone to put their work out there so people would come to know about their talent and set of skills. Showcasing your work is a part of growing according to Hanifa.
As we come to the end of the section, Hanifa pronounces a quote she lives by, "the main thing is to be moved, to love, to hope, to tremble, to live." – Auguste Rodin.
AVAILABLE ON:
Instagram : @colorsofhoney