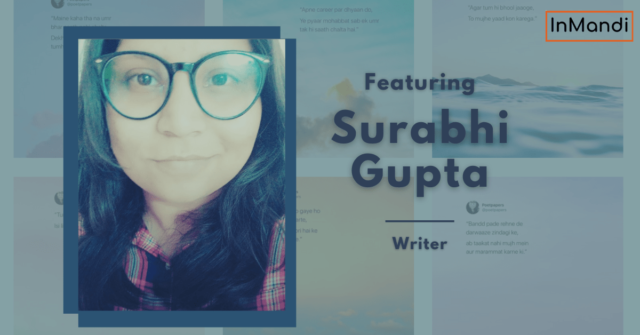 We would like to start this segment by quoting our influencer, "Surabhi Gupta" who handles this beautiful page called Poet Papers; which goes like, "khud se baat karne par, kayi uljahno ka hal nikal aata hai." She is full of beautiful phrases like this one, so let's take a look at her journey.
Her first Stint at Penning down
Surabhi wasn't much into writing or for that matter studies or anything but in 2010 when death tragically took his grandfather away to whom she was really close, she wrote a thought. She didn't post it anywhere or anything she just poured herself in her diary. Then in 2012, she started her Facebook page which reached 8000 real soon. She didn't put in much effort to write something, it was just like an immediate thing. Suddenly something came over her and she deleted the page.
Entering the realm again!
2017, marked the birth of Poet Papers. It grew a lot and she recieved immense support from everyone around. Next we know, Surabhi had her own Instagram Handle as well. It grew rapidly as well, people were just hypnotized by her way of writing. In accordance with this she also started a youtube channel for roasting intially but in course of time she started posting Rap songs as well. It was loved by many and it still continues to grow.
Poet Papers spilling the beans
She loves listening to Gulzar, Tehzib Hafi and Jaani. She isn't so much fond of reading but she surely is thinking to treat her audience with publishing her own book soon. A journey is never complete without some rocks to obstruct, just like every writer even she suffered from writer's block. Another disappointing thing was her work was being plagiarised on different accounts and that affected her badly. Also the Instagram algorithm has kept her page stagnant. Apart from this, She loves writing about breakups and one sided love, she hasn't encountered something like that but hearing stories made her weave one. To maintain a peaceful aura around her she doesn't pay attention to haters and just keeps on going. She believes in herself.
Pearls of Wisdom
For all budding writers; here's a quick tip, Be consistent and nothing can stop you. Surabhi herself even after reaching 59K followers still posts 3-4 pieces everyday to keep her audience intact. She feels writing is the best thing that can happen, it is like a vent for yourself. Most of her followers are from age group of 16-24 so she curates her content accordingly. Her only motivation is that people are connecting to her and it makes her feel content. She is head over heels for every single appreciation.
If offered a big platform in future, she may take up writing as a profession and if not that then she will continue her business with the USA MNC where she guides the youngsters to grow and to learn and earn.
Wrapping up with this commendable artist by phrasing her favourite lines, " Kuch khaas nahi bas apne jazbaat likhti hu. Kuch beete qissey kuch mulaaqat likhti hu."