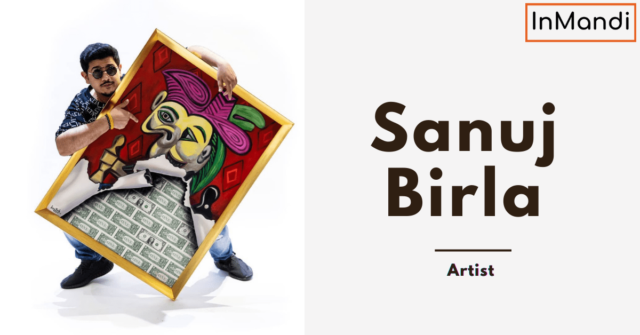 In this article, we are going to talk about one such person who over the years, has earned a name in the field of art. Sanuj Birla is a name that's well known to people in the pop-artist industry. Sanuj was born and brought up in the national capital of India; New Delhi.Right from an early age, Sanuj loved playing with his paintbrushes. As a child, he always enjoyed painting which has now turned him into an excellent pop-art artist. He belongs to a business family but had no interest in taking over from his father. During the mid-school age, Sanuj used to paint because it was his passion and over time this passion turned into his profession. He always loved and enjoyed painting cartoon characters, famous movie characters, and superheroes. But with time, he diversified his talent and started painting figurative paintings as well. These large paintings are a collage of realism, pop art and surrealism.
During the initial days when Sanuj created any artwork, he posted them online. Initially, it was just for fun but when he saw that his work was getting a lot of recognition he made up his mind and decided to make it into a full time-career. In the beginning, it was his friends who encouraged him. Some of them bought his paintings which encouraged him to think big.
Sanuj has always been inspired by his dreamy visions. These visions have helped him in creating excellent compositions and marvellous paintings. His most visionary paintings are taken from various comic books, and the art of other painters and movies.It's been approximately 9 years that Sanuj has started his career as a craftsman. In these past years, he has created over 250 breath-taking artworks. In these 250 artworks, he has explored various facets of the professional art including mixed media art, canvas oil painting, acrylic painting, sculptures and many more.
Sanuj has had a career of close to 9 years and there have been a lot of exhibitions that he has organized, been a part of and attended over these years. The highlights of his career include:
Group Shows
In 2014, "The bigger picture"
In 2016,"Triptych Parade"
In 2018, "Artinsic"
Booked a complete gallery in Affordable art fair
Singapore 2018
In 2019, "ID design
In 2019, "HTimagen fest"
In 2019, "Artinsic"
In 2019, "FOAID show in Delhi"
In 2019, "Artinsic & Nivasa in Delhi"
In 2019, "Asia contemporary art show in Hongkong"
Solo Shows
In 2014, "Friends of Art"
In 2016, "Contemporary Arts Week"
In 2019, "World art Dubai"
In 2019, "Affordable art fair Singapore"
Had booked a booth in Art Expo New York 2020
Turning his passion into a complete profession is one of the toughest parts of anyone's life. It is said, the more you work for your passion the easier the road becomes. Maybe Sanuj understood this and that is why he relentlessly worked for achieving what he desired.