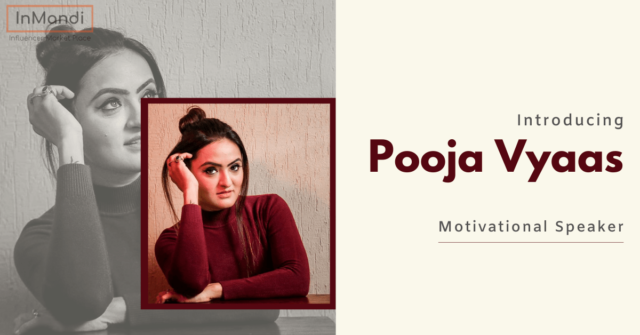 The very first person to introduce the concept of 'personality development' in Surat, Pooja Vyaas has been an achiever and hustler from the age of 17 when teenagers are distracted with college life frolic. Her story is an inspiration to all women entrepreneurs as she has developed all the traits required to start and grow a business from scratch.
Gaining Achievements from Teenage Years!
Pooja's childhood wasn't all hunky-dory. Noticing that her family is going through a financial crisis, Pooja took up responsibility by taking up a job at a mere age of 17. Part of her success is due to her positive thought process from such a young age: for instance, Pooja believes that everyone who impacted her life negatively or positively is an influencer beginning from her first employer who motivated her to work hard followed by a student's mother during her early teaching years who spoke to her rudely for a small request of water. Pooja viewed this incident as a signal for her to think bigger than just home tutoring.
She has always been a firm decision-maker and took a huge step by getting married to Piyush at a ripe age of 18. She recognized that her life partner has the same dedication and zeal to battle all the struggles of life. Gifted with the brain of an entrepreneur, Pooja along with Piyush identified the missing market in Surat and combined it with their strong knowledge in 'English' language, opening an English tutoring institute. They split their roles by Pooja home tutoring students and Piyush conducting classes at the institute. This is an inspiration to all couples that professional lives can be beautifully merged with your spouse if done strategically.
Pooja's key to success is her ability to keep improvising her business. She widened her brand's horizons,
Star Personality Development, by introducing a very new concept of extra-curricular education- 'personality development'.
Pooja came up with this idea during her pregnancy and implemented the same soon after attaining motherhood in 2002. Her business ideas were always backed by hardcore research and training, for which she decided to get herself trained in London to understand this foreign concept- 'personality development'. From then till now her business has undergone various additions to be ahead of the game all the time.
For Pooja, her work is her ritual. During her pregnancy time, she couldn't wait to get back to work. With her impeccable work-like balancing abilities, the break did not have an ounce of effect on her work quality and determination.
The Journey Continues: Tiara Mrs. India International Classic 2018 and Supreme Personality Groomer
During her mid-age, Pooja decided to venture into something radical and she contested in a beauty pageant held in Mumbai and secured the title "Tiara Mrs India International Classic" and "Tiara Mrs Most Popular"
After winning the crown, Pooja has defined her roles separately and strongly: Piyush continued polishing his students' inner personality, whereas Pooja implemented her learnings by enhancing the way people portray themselves externally.
Pooja is an ideal example of a lifelong learner! She also started expanding her reach outside of her city of Surat and also launched the brand, "Appearance With Pooja Vyaas"
From 2018, Pooja entered the world of social media and gained overwhelming response and popularity quite quickly. She also started delivering lectures on a wide array of lifestyle topics like Grooming, Self-Branding, Relationship issues, and many more. Pooja gives daily tips via her Instagram platform and her message to all women is to pour in hard work, dedication and never let yourself down, "nothing is impossible" is her mantra for life!
She has been the recipient of multiple accolades and awards including an opportunity to meet current prime minister, Shri Narendra Modi.
Pooja's Brand Targets the Digital Milestone
Pooja's brand is a never-ending sail to victory! Noticing the most recent trend, her current plan is to promote her institute as an online platform to make the most of the 'digital boom' and also get a gateway to being recognized as a global brand. She along with her husband started an online self-growth academy named "PiyushPooja.com".  This training will focus on soft-skills training in different segments like youth, business, life, mind, and relationships, etc. Their vision is to bring all national, international trainers and coaches to this platform.