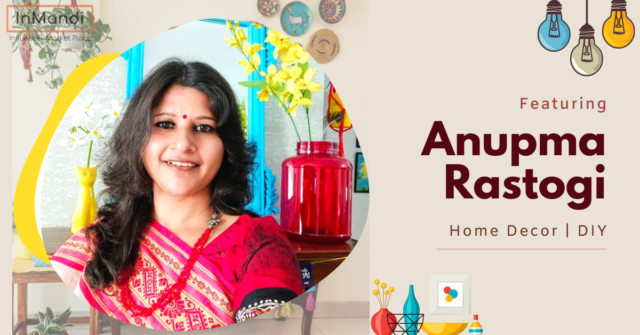 Beautifying homes is usually a hole in the pocket, but Anupma's Instagram diaries make that job easy and affordable for all her viewers. Anupma is an outburst of colors syncing together and a master of turning blank spaces to a beautiful space. She uses 'best out of waste' techniques, color combinations, and lots of indoor gardening to enhance living spaces which is why we refer to her as the 'sustainable home styling Guru'.
The Academic Scholar and Creativity Queen!
Anupma has always had the urge to try out something new! She is a Science graduate and specialized in a unique field called 'Geophysics' from IIT. Post-marriage, she had to shift to Ahmedabad and therefore took up a job at ISRO as a research assistant.
Her career again took a turn when she had to relocate to Kota, Rajasthan with her husband. Without hesitation, she switched to an IT job as her previous career had no opportunities in Kota. Even after relocating two times and having a diverse science background, Anupma's willingness to explore challenging career roles differentiates her from the regular 9 to 5 job seekers.
She took a break from work at the time of her son`s birth until he turned 4.
But who would have thought that along with the technical expertise she also possesses a volcano of creativity? Bustling with her job, Anupma also did theatre, in fact, she has been part of Gurgaon Moms theatre since 2013 and did 6 plays till 2019.
But that's not where she stopped! Anupma's creativity is an overflow of excellence! She has a poetic flair for writing and relates her poems to the moods of her pretty home. For example, a recent post showcases a cosy corner of her home, clubbed with a poem describing the emotion of 'spending time with yourself'.
Poetry, story-telling, dramatic effects, gorgeous colour combinations make Anupma's Instagram a fascinating journal for every viewer.
A Boundless Love for her Work!
Anupma started her Instagram page 2 years back to promote her husband's cycling expedition. She soon started posting pictures of her home and received DMs from home styling seekers. Anupma believes that there is no need to spend on expensive interiors to beautify your home, she says "you can make your home pretty just by putting together the right things from here and there. A sense of designing and experimentation is the key."
She regards her passion for gardening to her childhood days when she lived in a huge house with open green spaces and the college of her small town which was cornered with lush green bushes. She says "I experienced the concept of compact homes in big cities and started purchasing Tulsi and Money Plants to build some greenery at home."
Beautifying her home is the most relaxing element for Anupma and she snaps pictures of her revamp creations every weekend all by herself through her phone.
Anupma treasures nature and her dedication towards her work combined with innovation are what makes her work outshine on Instagram. She also has a pet dog and no one will believe that she is the mother of a 20-year-old boy!
Her secret is: living life to the fullest and it makes her glow inside out which fuels anti-ageing automatically!