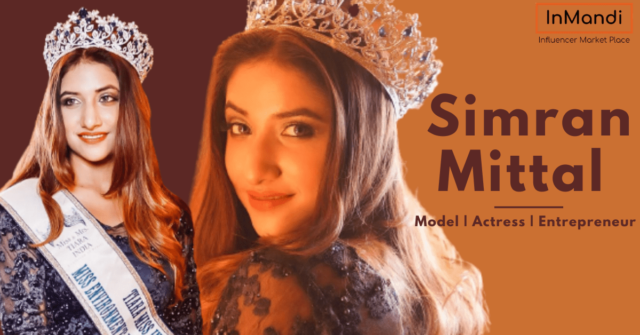 Meet our beautiful influencer Simran Mittal. She hails from a Punjabi family residing in Mumbai. She is the Founder of GlamnGlow Beauty lounge, Myntra Fashion Superstar in season 2 on Mtv India and is winner of Miss India Environment International 2019. This 19 year old Lady is an amalgamation of success and brilliance.
Baby steps towards accomplishment
Simran since the age of 16 was interested in modelling. Beauty pageants always appealed to her. Initially she just used to post normal photos and her daily ongoings on instagram but she received a lot of praise and appreciation for her style. From the start she aspired to win a particular pageant which she couldn't due to political reasons which shattered her completely. The phase after was full of self loathing and doubt and feeling of not being enough.
But this didn't stop her. She was really passionate about modelling and she wanted to thrive at any cost. She had her first paid collaboration last year in December and it impacted a mass of individuals. She strongly believes in minimalistic appearance and tends to leave a positive influence on everyone. She has a certain charisma etched to her personality.
Obstructions in Industry
According to her there is a lot of politics in the industry. There are many people to pull you down and then there are much more talented than you. But that shouldn't stop you from achieving your goal. Everything is scripted in the industry, you have to make your own space and have a thick skin. Simran quotes that you shouldn't be demotivated and just do what your heart wants. Struggle is everywhere, you have to fight it if you are really passionate about your work. She adds that don't let these things affect you, what's meant for you will surely find your way.
Simran herself is really honest and down to earth. She is clear and transparent with her followers and she wants to make an impact on anyone's life. She wants to be as real as possible.
#FIT – FASHION IS THERAPY
Simran had knack for styling and dressing up since her childhood and whatever she is today is the fruit of her strong passion and confidence. To Her, fashion is therapeutic. She was seldom criticised for not dressing her age but nothing of this affected her. She felt comfortable in what she was wearing and that was enough. She loved fashion since day one. Her hashtag FIT is going to be viral soon and is a part of her initiative.
Miss India Environment International'19
This was one in a lifetime experience for Simran. As she describes it was a 4 month process with 10-15 rounds and by her glam and confidence she won the title. Getting crowned at 18th June 2019 at 2:00am was the most ethereal moment of her life. She really can't put into words what it meant and what she was feeling. It felt like every ounce of her body was applauding her success and she has been grateful ever since.
Grappling Setbacks
First and foremost issue faced by her was her parents' lookout on this. They didn't wanted her to do something like this because of their business background. They were stereotypical about the industry and weren't in favour of it for a long time. But she was extremely firm on her decision and one evening her father surprised her by accepting her proposal. She joined CocoBerry – the modeling agency as soon as possible and did various endorsements in the process.
Another fallout was that social media wasn't so much in fashion 3-4 years back and so she had to rigorously churn content out to make her feed engaging. She started with just 400-500 followers initially but her consistency and dedication brought a lot of crowd to her. It was also difficult to reach out to any brands in the growing phase.
The only thing that helped her cut through this was Being consistent and being unique.
Lockdown Charades
Lockdown was a tough phase for all of us and so was it for Simran. Initially it was tense situation for her to not step out. She experienced usual outbursts and frustrating situation but with time she understood the importance and it turned out a blessing for her. She took time out for herself which is very important according to her. And she could also think of new and engaging content to entertain her Audience. She reckons that being productive and distinctive is what sets you apart in industry. She tries to touch all the niches and grow her community more and more. As an influencer she wants to guide people at the right path and be the torch bearer for a better society.
BUSSINES'IN
At this quirky age of 19, Simran has got her own business venture. It'll be on floors by October. It is her own beauty lounge for nail and eye lash extensions. She learnt a lot in the process and it is a surreal feeling to have a brand of own. Here's a cent of advice by her to whoever wants to start a business, that have an idea and know how to go about it and you'll be all set. She strategises everything from start to finish and she keeps on exploring and learning everyday to make it better.
A few big words
Simran has a small message for all her followers that just be consistent in your work and always try to pitch new ideas. Keep on experimenting and enjoy the journey. Embrace everything on the way right from struggles to failures to happiness and even small moments. She emphasis on the fact to be punctual and grounded and be self sufficient. Greed will take you nowhere. And manifest!
Rachel Plattern's Fight song so beautifully connects with Simran's Journey.