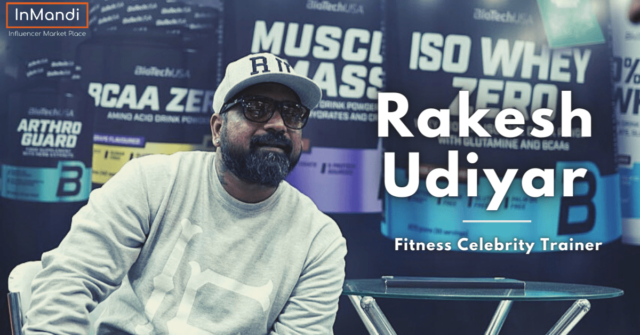 Body-builder and trainer Rakesh Udiyar ranked as one of India's best Men's Health personal trainers in 2015. With over 60k followers on Instagram, Rakesh is now a well-known fitness trainer. Born in Ambernath, Rakesh was the eldest son in his family with a younger brother and sister.Rakesh's struggles in life started early since he lost his father at the age of 5. His father suffered from skin discoloration and depression and died due to paralysis. Owing to the financial crisis that ensued, Rakesh had to change his school from a convent to Mumbai Municipal Corporation School. It took a while for Rakesh to realize their family's financial crunch when he stopped traveling in a bus to school.
After a point, his mother was forced to start working as a maid in Bandra. Eventually, Rakesh and his mother started staying and working at his uncle's place in return for bearing Rakesh and siblings' education expenses. Rakesh continued to work at his uncle's home till the age of 15 or 16.
Rakesh first found interest in sports and bodybuilding while he was still in school. He used to play kabaddi as a sport and participated in a powerlifting competition at the age of 16. At 22, Rakesh moved to Dubai and started working in a Rehab hospital. This job experience helped him learn a great deal about health and fitness. After working there for two years, Rakesh moved back to Mumbai and decided to start working as a fitness trainer. However, he had no formal degree or training in this field. Rakesh did not give up and started small. He joined a gym in Mumbai as a fitness trainer and worked there for a year while acquiring more knowledge and skill.Rakesh started networking while training at the gym as he got acquainted with someone who knew Arbaaz Khan closely—after connecting with Arbaaz Khan, who liked his work asked to be trained by him. It became a big break for him, and since then, he never had to look back.Rakesh now has training centers set up in Mumbai, Chennai, and Hyderabad with more than 40 members. He has trained leading Bollywood actors including Salman Khan, Amir Khan, and other celebrities. A glance through his Instagram page would reveal his reach and influence over celebrities and other people as a fitness expert that has garnered him so many followers and one that is still growing.