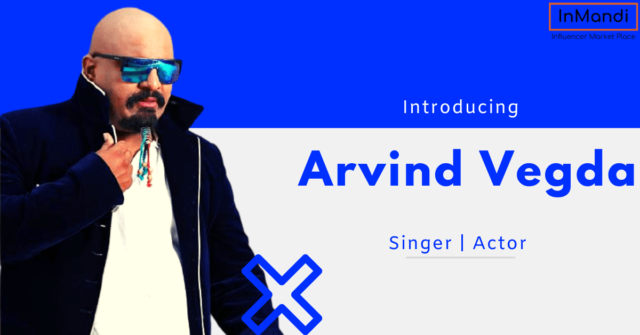 Failure is the first step towards success. Being a firm believer in hard work and dedication, Mr. Arvind Vegda, popularly known for his song "BHAI BHAI," went through many ups and downs. Being known for his Jinnie look, he still believes his sole motto is to spread happiness.
Arvind Vegda finalized his education from Vidyanagar High School and pursued a diploma in drama. His father always wanted him to become Engineer, which he couldn't be, but he fulfilled his dad's dream with something similar. He has been the President of the Engineers Association in 2012, which he feels to be a great achievement, being coming from a commerce background.
In 2012 he got his first big break by working for a campaign for PM Modi, who was then the Chief Minister of Gujarat.
Later on, he went on being the sensation due to his Gujrati Anthem. Still, soon after that, he made a Gujrati movie that got flopped. Side by side, he sang for Smita Tacker is a Bollywood movie which again when on being dropped, just when he thought its time he should set aside his failures and start afresh.
He witnessed Ranveer Singh performing on his song in IIFA; soon, he got to know that Sanjay Leela Bansali copied his original music for Ram Leela without even his knowledge. He believes these were one of the hardest setbacks he ever got, but he still didn't stop.
Arvind Vegda believes that, "Always keep your hard work in progress".There is a more significant opportunity waiting for every opportunity lost. It's just that one should never be disappointed with failures as hard work always pays.
Soon after his big setbacks in 2015, he got an offer for being in Bigg Boss 9 reality show, where he got appreciated by The Salman Khan for his 'Bhai Bhai' song, which he still believes to be his outstanding achievement.
He then had to choose between Navratri Nights and Bigg boss 9, whereby he decided Bigg Boss and is happy about it—following that, he even got appreciated by Ranveer Singh in front of the vast public. There he was labeled as the singer of 'Bhai Bhai'. He also sang the title song of the movie 'Fan' in the Gujarati version.
Being a strong supporter of Failure shows the path towards success. He introduced GIFA, a Gujarati based award show where actors got awarded for their performance. And for that, Arvind Vegda got the recognition for his hard work.
He always believes in working for people and work for his audiences' happiness. This lockdown came out to be a boon. He made a motivational Gujrati song featuring 30 artists, just sitting at home, which was highly appreciated by even PM Narendra Modi on twitter.
Being a fan of Micheal Jackson, Udit Narayan, Sonu Nigam, Arvind Vegda strongly believes one should do what they love and love what they do. He believes that one should be so dedicated to his goals that the news of his death should be news and not just an advertisement when one dies.
His most prominent critic is his daughter, and he indeed looks forward to his daughter for his life decisions. She is the guardian angel for him.
He is Currently hosting two laughter shows, in Doordarshan and one show named khadkadahat. He even has a channel online whereby he motivates through music, and he has brighter plans ahead.
His message to the youngsters aiming for singing will always be to do hard work as hard work will always be a sweet fruit for you, not today but someday. He also preaches that fame is very easy to get. What is hard to succeed, the key mantra is always hard work and dedication to growth. Success doesn't have any age, so keep working hard for your dreams that would ever pay off.
The song that makes him happy is his Gujarati version of Fan, 'Mein Tera haye re Jabra hoye re Jabra fan ho gya'.