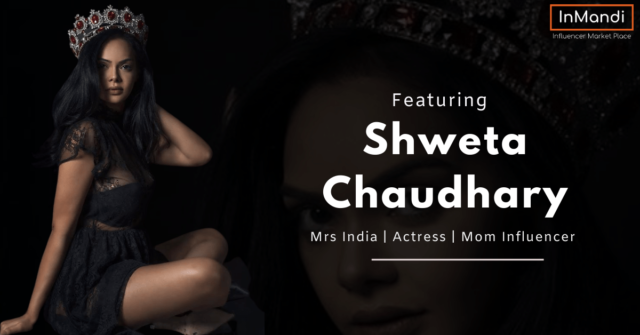 Challenges and Hardships shape you to become the person you want to be . This holds particularly true for Shweta, winner of Mrs. India and Mrs. Eco Earth 2017 from Banaras who accomplished all that she dreamt of after donning on the role of a proud wife and mother.
"Behind every successful daughter, there is a great father"
Shweta found immense encouragement from her father who motivated her to be an achiever in life. Through his love and support he paved the way for Shweta to realize her Miss India aspirations. She recalls being enthralled by the walk of the ramp and would practice aping the famous catwalk in front of the mirror. Her vision of winning the crown made her move to cities in 2006. In that very year, she found herself signing up for a Hindi film which unfortunately did not see the light of the day due to the sudden sad demise of her beloved father. Shweta, being the oldest among her siblings choose to take on the responsibility of her family and headed back to Mumbai to work as a product manager in EMI transmissions.
Shweta soon found love in a man who successfully filled the void in her life left by her father. As luck would have it again, she bumped into a famous Kannada director at a party and was offered his movie "Rani Rathnamala". She was much encouraged by her husband to find her way into the world of movies. Unfortunately due to a series of events the movie was shelved. In the world of movies and film making where uncertainty is a sure thing, Shweta too encountered many such pitfalls. However, this did not dampen her spirit for too long. One of the brightest moments of her life was the birth of her daughter .
"Challenging Dark Clouds"
Having to go through postpartum depression after childbirth which brings in bouts of despair and irritability, Shweta found about her being conceived and ready to welcome her second child. Within the fifth month of her second pregnancy, she suffered a miscarriage. The series of events in her life from losing her father to losing her second child to miscarriage whilst having to deal with postpartum depression almost wrecked her.
Having hit rock bottom, Shweta pushed herself towards accepting reality and started working on self-healing by indulging in yoga and meditation. She was determined to not let trauma call the shots on her life. "Life will bring in its share of suffering, but choosing to recover is in your hands" is what she firmly believes in and advises people to not hesitate to consult a specialist or seek help in the road to recovery.
Through the dark tunnel, she endured was light at the end of it that shone through the birth of a bonny son. She also fondly recalls gaining much strength and support from Dr. Suchitra Pandit.
"Wining Mrs. India and Mrs.Eco International"
On a solo trip to Ladakh, Shweta received a call for a modeling interview. It came in as a surprise by her husband who secretly set her up for it in a bid to empower his wife on the fulfillment of her ambitions . Shweta was selected for the prestigious Mrs. India beauty pageant. A glorious win she achieved by bagging the titular crown . Shweta strongly felt at that moment her late father beaming with joy on her victory , the inception of which could be traced back to her childhood. Adding to her kitty of win were the titles of Mrs. Earth and Mrs.Eco International she won in 2017.
Gorgeous Shweta concludes with loving your family unconditionally and working towards building self-confidence. Every challenge that life throws will build you up.
Signing off with her favorite song "Zindagi pyaar ka geet hai , isse har dil ko gaana padega", she resonates much with the famous saying "Smooth seas do not make skillful sailors"