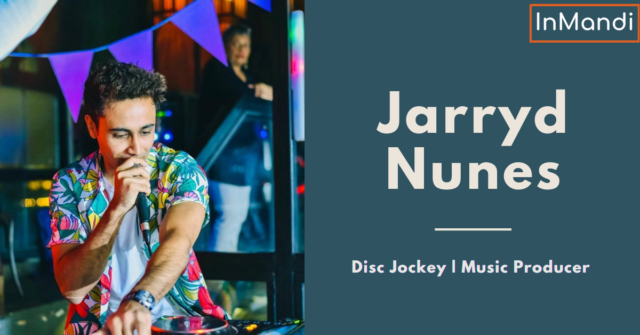 Taking an unconventional path and working towards his goals, Jarryd Nunes shares with us his journey of taking productive steps to trying to make it big in the music industry. A DJ, producer, and globetrotter, Jarryd Nunes is one of the up coming talents of the country. He talks us through his success in creating a close-knit community of music lovers with his brilliant music and power-packed gigs.
Completing his schooling in Don Bosco, Matunga, it's no surprise that Jarryd has a love for sports, especially field hockey. He played with the Air India Hockey team and only until recently has given up the sport owing to numerous other commitments. He pursued Arts from St. Xavier's College in Mumbai but never knew what he wanted to pursue academically. Music was always a passion, but it wasn't until he experienced the city's night-life and clubbing scene, that he realised he wanted to become a DJ.
Jarryd saw a gap in the current state of the DJs in the city.He felt that as a DJs, there were so many boundaries and opportunities to explore and was was prompted to take up the challenge himself. Realising the need to explore the unexpected possibilities, he was prompted to take up the challenge himself. Having the support of his parents and guided by his own will, he started learning the trade by watching videos and attending numerous workshops and classes. He got a real taste of being a DJ at his college fest, 'Malhar'.
However, Jarryd realised the need to sharpen his skills with formal training. So, he enrolled with True School of Music where he was able to access better facilities and get trained by PB Certified trainer DJ KD, who till this date is his mentor and DJ guru amongst many other ventures started by the two. His first gig was at 'F bar' where he got to program his own event, and it ended up becoming a roaring success. From there, the journey continued with Jarryd establishing his own sound and becoming well-known within the community for his music.Jarryd talks about how blessed he feels to grow up in a family that loves to travel. Both his parents work in the travel and tourism space, which includes the family-owned business – 'Purple Orchid Holidays'. He runs the business as well and has managed to visit 34 countries to date. He tells us how grateful and blessed he feels to be able to travel and play music. He also tells us about the different aspects of being a DJ like catering to everyone's requests, learning to handle the pros and cons of collaboration and finding a good balance between his own music and what the audience wants.
During the lockdown, Jarryd created and hosted an interactive music live stream
called the 'Neon Livestream' complete with creative
edits, great music, and personal messages for his listeners. It has gone on
to become the most watched and biggest show in Asia on Mixcloud Live averaging around
800 viewers each stream. "It's important to keep pushing
boundaries and be open to the creative process and to always learning", says Jarryd, as
he describes the tremendous scope available for DJs in today's world,
something he is trying to explore and learn each day.
The lockdown allowed Jarryd to take a pause and decide his next move for the future. With travel plans and a whole new pop album in the works, we have a lot to witness from this musical prodigy. When asked about any advice he would like to give to young talents, he says "Just make sure you have fun along the way.Fame,success and money are great things to want but You have just one life to live so make the
best of each day and make sure you enjoy yourself and are happy, the rest will follow"He emphasises listening to criticism with an open mind and worjust enjoying the process ofking towards something you love doing.
Jarryd's perseverance and discipline towards pursuing this career is an inspiration to us all. We look forward to all the great music in store for us from Jarryd Nunes, and we're sure that we will witness many more exciting projects and gigs!