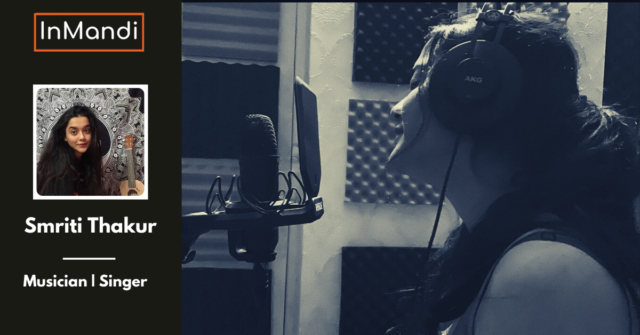 ART FEATURED:
Vocal music
ART FORM IN GENERAL:
It is a category of music that is usually performed by the singer at times accompanied by an instrument. Singing is the prominent element here and instrumentation is secondary.
THE LYRICAL VOCAL CORD:
Smriti is a music virtuoso whose prime interest lies in vocal music. The notion behind selecting this genre to present is to spread the word that you don't need to have an original out to win a show. She reckons that even if you put up a cover with correct composition and scales you can still make people go awestruck. She elaborates on this by stating that you can compose your music in your own way and your style is enough to captivate the audience. She had always been inclined towards music and her interest boosted naturally. As she explored more into the field, her fondness for music grew more and more.
REHEARSING SESSIONS:
As our artist shares that recording a video of 2-3 minutes usually takes 25-30 retakes. To maintain the tune and pitch the right scale it takes a lot of rehearsing sessions. According to her, it takes hours of recording, editing, and uploading. What is served on the platter is the result of constant hard work and multiple attempts.
SMRITI'S HONEY COATED JOURNEY:
Smriti Thakur is a 20-year-old music composer and singer. She is currently pursuing BBA and belongs from New Delhi. She stepped into the musical world when she was merely 8 years old and instantly fell in love with it. Today, it holds a significant place in her life. She got trained under a music tutor and kept practicing rigorously to develop far better skills in it.
VERSES OF ADVICE:
Smriti advises every upcoming artist to stay consistent and highly disciplined towards your art. Practice is the only ladder that would lead you to success. Also, she asks everyone to not give up anything if they really love it. Your love for your art will help you stay unchanging towards the process.
As we arrive at the conclusion, Smriti quotes Samuel Goldwyn," the harder I work, the luckier I get." and she firmly follows this as it helps her stay focused.
AVAILABLE ON: