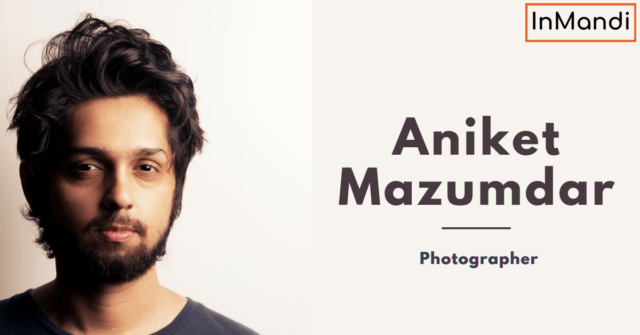 Education and welfare of their kids are the primary goals of any parent. We usher in an era where our parents would want us to follow something safe and prosperous. Any other route would be deemed as a risk not worth taking. But some people go down the other path, and Aniket Mazumdar is one of them. As he explains in the interview with InMandi, he was passionate about photography but didn't think of doing it professionally when he was 25.
From a science background, he completed his MBA degree in Marketing only to become an exceptionally gifted photographer; which shows how far passion can bring us. He has been rated among the top 20 wedding photographers in Mumbai. His parents received the decision to venture into photography well. That is something we rarely see, therefore the added benefit of familial support allowed him to venture the road less traveled.
Specialising in Wedding Photography and Film making, his knowledge in his area of expertise is quite remarkable. He is well-equipped with the latest photography trends and techniques. After his MBA he worked in media industry having a usual corporate life before starting Aniket Mazumdar Photography .This venture started as a part time job in 2014 as he was a part of a corporate job back then . But he left the corporate world in 2014 and started his business in 2015. Aniket worked independently since his first project ever and created his talented team in 2015. By keeping low expectations for his venture, passion drove him to give his all rather than worry about the business aspect of his projects. He moved forward slowly, not thinking about the future but rather doing all that he could in the present. He believes that the future can only be bright as long as you put in the hard work. Capturing smiles and happy moments and blending it with beautiful artistic photographs and films.
Any business will have basic struggles, and Aniket cruised past his expectation. He established himself as one of the top wedding photographers in the country. The pandemic brought by CoronaVirus in 2020 has affected everyone. This period is also the most challenging period of our time. It has changed lifestyles, businesses and weddings, among other things. He believes in the need to move forward and encounter all the changes. Changes to the wedding meant adapting and improvising to new scenarios as a result of the pandemic. With the change in plans, Aniket has found it challenging but he believes that it would only make him better by learning to adapt in these challenging times. It is an indication of how passion has made him try different things to counter these changes.
The story of Aniket shows us the importance of passion and how passion brings the best out of us. It also shows us how we will be rewarded with our effort, and there is no shame in pursuing our interests with or without the support of others as we are responsible for what we want to do. Be Calm, learn constantly, evolve and focus on your art and let your hard work speak for itself.