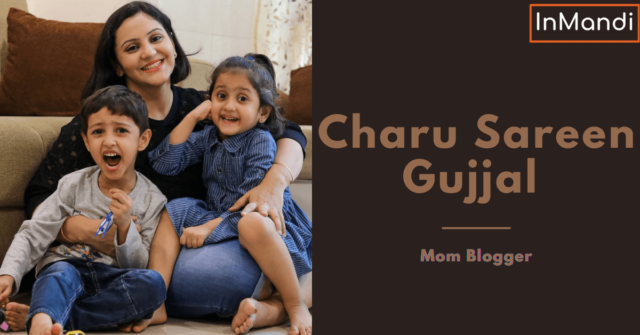 Charu Sareen Gujjal, a parenting blogger, and mother of twins is an inspiration to all the mothers out there. Motherhood paved her way for a full fledged profession and proved that nothing can stop you if you are determined and passionate. Charu was born and brought up in Delhi. She was an introvert, but she loved writing for school magazines, graduated with English honours from Hindu College in Delhi University, and then pursued a master's degree in literature.
For six-seven months, she worked as an English trainer in an institution, and then got married to the love of her life and shifted to Mumbai.
Her struggle started as a freelancer, and then her longing to have an independent life and a career pulled her back to Delhi for pursuing B. Ed. She had a long-distance relationship with her husband for a year, but her willingness kept her going.
Then she moved to Bhopal with her husband and she started working as a teacher and worked there for two and a half years.
After moving back to Mumbai, she couldn't invest in any job as she had conceived twins and was put on bed rest. It was tough for her to manage this stage of her life with twins in her womb, and no proper guidance.
This courageous lady started working again as a freelancer but soon had to quit that. Then she started writing about her experience of motherhood on her WordPress blog; she started giving enough time to her blog based on twin parenting, and in the time of three years, it turned out to be a full-fledged profession.She has been featured by BabyChakra, SheThePeopleTV, WomenFitnessOrg, EatMyNews, etc and has done many campaigns with brands like Pampers, Times Of India, Amazon India, etc including The Kidney Kid to spread awareness about kidney health in little children through cartoons.
The Mom Sagas
Charu owns a blog named 'The Mom Sagas', which is all about parenting twins; she got this idea to start her blog because she had a new experience and story to tell every day with the twins. She says she started this blog because she didn't want to lose herself; writing a blog is like a digital diary; it is a passion turned profession. It is not easy to manage kids and a blog simultaneously. She says motherhood is her motivation; her kids are an inspiration for her.
Dream book
She even wrote an e-book named 'A to Z of Parenting Twins', which is now sold on Amazon, as she thought there's not much practical and contextual information about parenting twins on the internet. She faced many difficulties in parenting during her pregnancy, and even after she gave birth to her twins.
To make it easy for other mothers and parents out there, she jotted down her two years of experience in this book in such a beautiful manner, where each chapter resembled an alphabet.
Example –
A – Adjusting to a new lifestyle with twins.
B- Breastfeeding twins
C- How to carry your twins
It is a must-read for all the parents out there expecting twins; it is convenient and relatable.