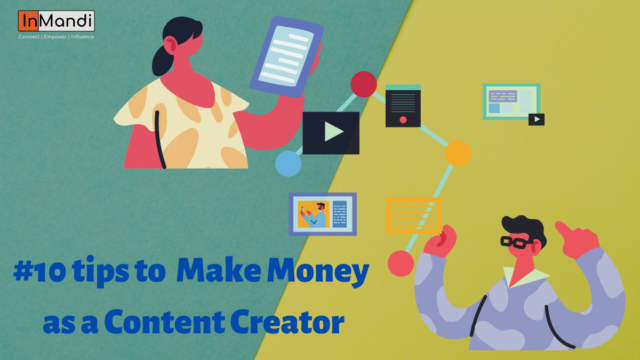 Evolution of Content Creators
Let's agree on the fact that Instagram has drastically changed over time. There was a time when it was a mere photo sharing app. And today, it is a great platform to generate content and leverage income. Influencers have thrived over time and have started generating income on a monthly basis. The users have responded in abundance to the creative content brimming on the platform. The traditional influencer myth has been broken and now they are focusing on a full fledged business model.
Content creators and influencer space have evolved over time. They monetise their income through showcasing their skills and excelling in their forte. The Internet surely empowers these content creators. For many of them it just started out as a hobby and now it has turned into a profession.
Curating an income curve
Truth be said, not every influencer can churn their bread and butter via the Internet. One needs to establish credibility and a sense of trust in the minds of people. Putting yourself and your skill out there will help you optimise income. To start with, producing high quality content is absolutely necessary to drive reach. It will help you build a strong online presence. Along with this, engaging with your audience on a consistent basis is important to make connections with your audience.
We all know that digital content creation has become a mainstream channel and a lot of efforts and attention is required. One must be dedicated and novel enough to put impressive content. You need to build a source of why your content is niche compared to others and what is that you serve differently, checkout out another blog on personal branding to understand this better. There would be thousands of content creators from your niche. And everyone is striving hard to ace the game. In such a large crowd, it is up to you on how you utilise the available resources and carve an income generator for yourself. An income curve comes into action only if you have considered all the points above
It's time to demystify how content creators make money online!
As traditional influencers evolve into multi-skilled and multi-platform content creators, we're sharing some of the best ways to diversify your business offerings, even in the midst of challenging times. From endorsing a brand to teaching a course to offering exclusive content, we're sharing #10 ways how content creators can make money in 2021.
#1 – Direct Advertising
It is one common way of generating income over the Internet. One can allow clickable advertisements of a particular company on their blogs. The companies pay influencers depending upon the click throughs from their blog. It is the safest way to earn revenue.
#2 – Affiliate Marketing
Affiliate marketing is a great model to earn a share of income. In this model, the influencer gets paid an amount of commission for the items sold via his/her affiliate link. This is a feasible and organized way for earning money.
#3 – Sponsored Posts
This will come into effect when a brand pays you to promote certain services and products. In this, you will have to curate content resonating with the product. It can be in the form of infotainment, review posts, or anything. You need to blend your niche and the brand to give out a unique output.
#4 – Brand Ambassador
Being a brand ambassador means garnering a partnership with the brand. They are usually contract based. You would be the face of the company. And with your niche-specific skills, you need to promote their product.
#5 – Consulting Services
Being a content creator doesn't always mean you need to create new content to make money. If you want to offer your expertise but don't want to create a full-fledged tutorial class, you can offer up consultation services. Followers will definitely appreciate the opportunity to learn from you in a 1-on-1 capacity. Why not offer simple portfolio reviews via email or take it a step further and do 1-on-1 Zoom consulting video calls? Just think: the 1-on-1 video call could turn into a lucrative, long-term consulting gig with new business owners or brands who are wanting to develop content strategies.
#6 – Teach a Course
Online learning is where it's at. And platforms like Skillshare and Udemy have truly democratized the way people learn (and teach!).
Becoming a teacher on an online learning platform can help increase your profile as a thought leader, which will help you to build life-long, engaged followers across your channels.
From photography to fashion design to email marketing; there's a lane for you to teach a virtual class with respect to your creative content niche!
Most virtual classes are broken into short "lessons" that are easy to digest and understand. Becoming a teacher on an online learning platform also helps you to increase your profile as a thought leader, which will help you to build life-long, engaged followers across your channels.
#7 – Launch your own product/service
This will benefit content creators from every niche. No matter what your genre is, you can sell your own product or a service. You can design a product suiting your niche and sell it to potential customers and followers.

#8 – Sell Your Art
Why not consider selling your art?
As creatives, we often forget to honor our own work. And we forget that our supporters do and will truly support us!
Whether you're a photographer, painter, digital marketing expert, or anything in between, set up a store on your personal website and give your followers the opportunity to show their support for your work!
Luckily, there are ways to drive traffic and make sales on Instagram!
For example, the link in your bio is super easy to find and readily clickable, making it one of the most valuable traffic-drivers on your Instagram profile.
#9 – Stock Photo & Video
No matter the industry, there's always a need for high-quality photo and video content.
And, with the current climate, many companies have put their in-house content creation on hold and are beginning to source high-quality content from stock websites like Unplash and Shutter stock for photos/ Videos.
Uploading your photos to a site like stock photo websites won't necessarily garner you immediate monetary gain, but it allows you to build relationships that could lead to big pay in the future.
TIP: If you have a photo with many views or downloads on stock photo websites, reverse image search the photo on Google and check out where it's being used.
For companies using your photos, you have an opportunity to introduce yourself to a company that already loves your style and is familiar with your work.
They could be eager to learn more about your services — turning that relationship into something a little more official.
#10 – Diversify Your Social Media Mix
It's easy to dive deep into your favorite social media channel of choice. But, it's worth creating content for multiple channels — it can benefit you in the long run!
Let's say you own a fashion brand and you focus all your content on Instagram. It could be super beneficial to diversify your content and start creating for pinterest and/or youtube to bring new audiences to your brand.
Repurpose your Instagram content for other platforms as well. This allows for new, relevant consumers and potential clients to discover your brand.
Since you already have created a strong online presence it is time to switch to income generation. You can try out these ways to optimise income through your art of content creation. Always remember, content creation is a powerful tool. You already have a huge potential audience, so now is the time to offer something new to them and earn profits in return.
And there you have it – 10 ways how content creators make money and how you can achieve multiple streams of income in 2021!
You're all set to start planning a next-level plan that will help you make more money as a content creator.