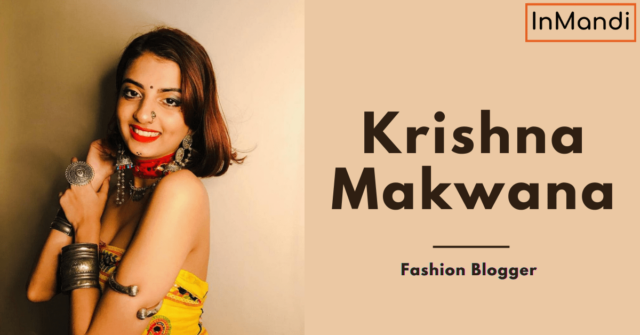 Krishna Makwana is a fashion blogger and lifestyle influencer on social media. She has 13.4 thousand followers on Instagram. She has also opened a YouTube channel on fashion and thrifting. Thrifting is a new concept of using secondary clothes and still looking good in them. She believes in the mantra, "doing what I can with what I have". She is a Mumbaikar and believes in doing all by herself.
She has graduated in mass media from Mumbai University. Since her college days, she used to participate in all the fashion shows organised in the college. She always loved walking on the ramp. According to Krishna, her making costumes for the fashion shows in college helped her in starting something of her own in social media.
Excet her brother, no one in Krishna's family supported her passion. Her brother always advised her to ignore what people said. Her relatives always criticised her and thought that she did nothing. For them putting on makeup and dressing for blogs was not a profession. They thought she should be a C.A, engineer or doctor. If it wasn't for her brother's continuous support, she would have shifted to something conventional.
At the beginning of her journey as a lifestyle influencer, she made content for Instagram. According to Krishna, people on Instagram do not have an attention span of more than five seconds. After a certain point in time, it takes a toll on you as there is no scope for creativity. They do not see the effort behind your strenuous work.
Although she continues to work on Instagram, she has now collaborated with friend, Auziata, and founded the YouTube channel Kayauz. Krishna's mantra to success is whenever an idea pops up in your mind, it should be new. You should add your twist to the content. All her content, whether on Instagram or YouTube has a background story. For Krishna, her content changes every day, just like life.Krishna never believed in brands. She is more into thrifting. She says there are two types of people: the ones who believe in brands, and the ones like her who believe in style and creativity. She could wear clothes already worn by 500 people but still rock in them. Such is her self-confidence and charisma, that too at such a young age.
Krishna Makwana has not done any professional course in either fashion or makeup. It's all her creativity. She just adds her twist and re-creates. She likes constructive criticism as it provides the scope of improvement. She has learnt to take criticism in the right way, and that is why she has gained name and fame without any professional training.
Another factor that has positively inspired Krishna is that she always believed in what she did. She believed in individuality. Fashion had always been a part of her life, and she always believed in doing what made her happy rather than what people thought would make her happy.
Krishna's advice for the young generation is to keep pursuing something if it gives you money, happiness, consideration, and appreciation. She says that people who think that they cannot become fashion bloggers because of religion, color or body type, should not be thinking about these things. They should start doing something of their own. That is why she plans to start something of her own in the styling business. She wants to do an internship under a stylist and start her brand in the long run.