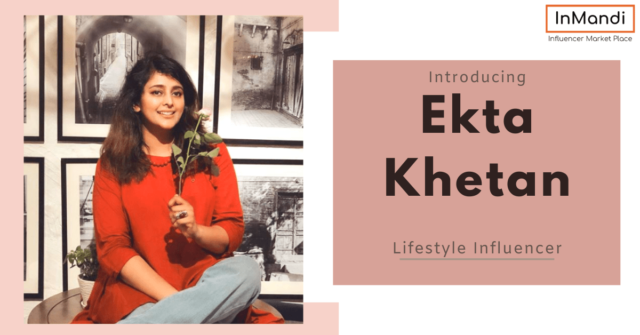 Bubbling with positivity, Ekta Khetan is a lifestyle blogger who started her blogging journey in 2008 and has kept growing ever since. Her passion for poetry, sustainable living and styling has influenced thousands of people across the country. But what makes her truly inspiring is her need to persevere, despite the setbacks life has given her.
During an interview, Ekta opens up about her childhood and how her need to explore and learn new things eventually lead to jumpstarting a successful blogging career. Growing up in her grandmother's house, Ekta's curious mind would always be elsewhere, exploring the gardens and climbing trees. This is where her love for nature came to life. Though originally from Rajasthan, she has lived across the country and fondly remembers her days studying in Chennai. With an MBA in marketing and finance, she has worked with top business heads and CEOs across different spectrums of the industry. All her achievements stand strong despite her handicap caused by an unfortunate incident that changed her life forever.
When asked about her accident, Ekta said, "I feel as if it was meant for me." She was barely 13 years old when a road accident caused multiple injuries, and she even lost a leg. She remembers how her brother was sitting by the window, but she asked to switch places. That very moment went on to shape the rest of her life. The doctors said that her leg could not be saved. However, her relentlessness to get back up and walk again won against all odds. Now she sports an artificial limb that she uses to walk just like nothing ever happened. This setback did not come in the way of her going on to cat-walk in a fashion show by Jabong, where she was shortlisted as one of the country's best bloggers! When asked about what she thinks would've happened had she never lost a leg, she laughed and replied, "I am very restless", She thinks she is not very talented but has this zest for life, the curiosity to explore good things, and a constant thirst to add value, that makes her keep going even in face of opposition and high-end ostracism and that explains her wide spectrum of work from poem to beauty to food to travel to lifestyle. It's this winning attitude that has, without a doubt, led to her success.
Ekta Khetan began writing poetry after her accident. It was a way for her to express herself. She was always better at expressing her thoughts through written words rather than through speech. When she decided to start a blog, blogging and social media were still new avenues here. She decided to go ahead with her plans and soon turned her love for writing into a lifestyle blog! Her love for life and various passions made lifestyle blogging an obvious choice. With over 72k followers on Instagram today, her content includes beauty recommendations, styling inspiration, food, fashion, and so much more! She also loves to travel and posts scenic photos of all her trips. She accepts how having a prosthetic can cause quite a debilitating hurdles while travelling or pursuing a normal day to day life. AT times it becomes difficult to keep wearing it [even in public] and then you cannot do without it. Being in a wheel-chair should not be an option, even if it means walking with broken, bleeding limbs and still keeping a normal demeanour. However, none of that has ever stopped her adventurous spirit. Her talents were always encouraged by her parents, who made sure she became independent despite her handicap. Sharing a childhood memory, she says that even if she wanted to skip school and was allowed to, her parents still forced her to go. "My parents always told me not to ask for privileges," she said. Thanks to their support, she learned to live a full life without asking for help. She may not have played Olympics or climbed mountains but she keeps pushing her limit.
Even today, Ekta continues to pursue her blogging career. After marrying her husband, who has supported her every step of the way, her career keeps blooming and she has a lot to look forward to.
"Life is very dynamic. Suddenly everything can change. But what's happened has happened and you need to ask yourself, what next?" These are the words of a winner, and surely, Ekta Khetan will have many more accolades to her name in no time!
I was often termed as "Jhansi ki rani, Indira Gandhi, and more" by my colleagues and classmates. I found it flattering but I also realized that every single inspiration is vital. We should touch as many lives as possible and that is a true successEkta Khetan