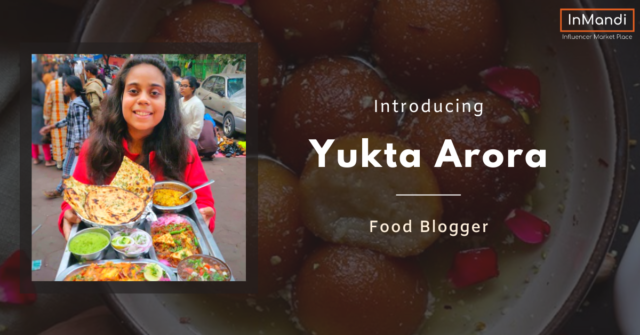 Hailing from a Punjabi family Yukta has always been a sucker for her North Indian food and every opportunity she'd get, she'd been on the hunt for a new place to satisfy her hunger cravings. Having discovered so many food joints in college, she would casually post pictures of the food she would munch on, on her gram, not knowing that one day it would become her profession.It all started in the second year of college when she met a bunch of bloggers and influencers at a college seminar. One of them was a food blogger; she was the reason why Yukta understood what she did for fun, could even help her earn a living. Inspired by the said food blogger, Yukta decided to start posting pictures of the delicious food she'd discover. However, like most other things in life, her journey wasn't easy-breezy, it took a whole lot of hard work and effort.
The first hurdle that came her way was explaining to her family how food blogging could be a career, that being an Instagrammer was a thing. While her parents were a little reluctant, they let her pursue it as a hobby. On the other hand, were the ever intrusive relatives who would never take Yukta's passion for food and blogging seriously. According to them, clicking pictures and maintaining an Instagram page was child's play. But the reality is something else altogetherAnyone who's a content creator knows that it's no easy feat. Yukta tells us how taking the perfect Instagram shot takes her more than an hour, sometimes even two. Not only that, but she also has to be very mindful of her posting time and frequency. She posts thrice a day, and honestly, that's no less than commendable. Despite all this hard work, there were days in the initial stages of her starting the page when her reach would completely dip, and so would her followers. That sure was demotivating, but now that her page has 113K followers, she advises the newbies to hold on and be consistent because it's only a phase and it too shall pass.
Having had her share of ups and down, Yukta Arora successfully runs an excellent Instagram page called Moodie Foodie, and she has a whole lot of people who drool over her work. Getting a bit more personal we asked her about her preferences, and she reveals how she irrevocably loves going to Amritsar, especially for the truly desi, ghee smeared food. She recommends trying the dry fruit tea from Giani's tea stall there, and when it comes to Delhi, she loves her cafes. She is more of a restaurant than a street food kinda person, and hence she is an avid lover of the kinds of pasta from Big Chill cafe (don't we all love them?)
Having experienced all kinds of cuisines from Italian to pan-Asian, Yukta still always circles back to North Indian food. From the delicious dal makhani to malai kofta and from those chatpata gol gappas (stuffed with dahi – yes!) to even some healthy atta Maggi, she loves it all!
We do think this 21-year old lover of food is doing a stellar job and you really should go follow her now.