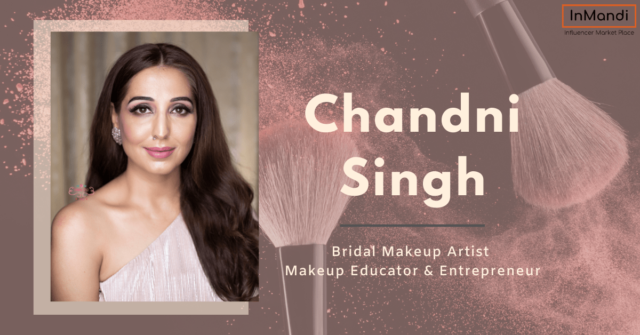 Having moved around a lot in the early days of her life within the country, Chandni Singh has been inclined towards art from childhood. She moved to Delhi when she was a teenager where she completed her graduation in English from Delhi University. She took to modelling after and has lived there ever since.
Chandni Singh won the title of Miss Lucknow in 1994 and enjoyed modelling for a while until one day when she witnessed one of the makeup artists spruce up her friend's looks and transformed her appearance in minutes with his skills. That was her calling where she decided to become a makeup artist and there was no looking back thereon. Having worked with many makeup artists in her line of work, modelling propelled her career as a makeup artist ahead in a short time.
Less is More
In the early days of her career, she started with no formal training whatsoever, but she was a quick learner and with her passion for the art, Chandni picked up the skill in no time from the makeup artists that worked with her and did her makeup for many famous ad campaigns. Vicks, Horlicks, Nescafe & Maruti-Suzuki are a few to mention.
With support from parents, Chandni Singh goes rolling with her makeup brushes to transform and make everything look beautiful. While it was fun, she likes minimalistic makeup and believes that makeup only enhances the natural beauty of a person's appearance while retaining the aesthetic touch and feel. Even as she teaches in her academy today, she insists and stresses on the importance of maintaining equal balance to obtain the desired look.
Strength-to-strength
While the new interest in a makeup career was budding, she tinkled the wedding bells and she married an officer in the Merchant Navy. When he went to the UK for studies, she accompanied him along for a year in 2002. Although she wanted to study makeup and be trained to follow her passion, only one of them could study at the time. But she didn't give up. She spent most of her days that year at the South Shields Council Library reading about make-up, scribbling notes in a small pocket diary, and making photocopies, which laid the foundation to fulfil her dreams. Eventually, she put together a little make-up kit, the container for which was a tool-box!
Professionalism is Bae!
When she returned to India in 2003, she did not give up modelling. She became the mother of a son in 2005. Yet makeup was always on her mind and with the strong support from her family, in-laws and husband, one thing led to another and she managed to secure work with perseverance. Her skill & professionalism was the breaking grounds for her to drive her passion. Soon, she became popular among designers, fashion houses, and production companies who noticed her true potential.
From there on, there has been no looking back and Chandni grew from strength to strength. A decade later, she partnered with Anupam Sachar to open Chandni Singh Studio and Make-Up Academy in 2013. In the last 15 years, Chandni is well known for her work ethics, professionalism, and consistency. As a well-known makeup artist, she believes that clients will keep coming back if the work and work ethics are great. She has become an educator who is recognized across the world and is humbled by the teaching experience for more than seven years now.
She is an inspiration for everyone who aspires to thrive in her line of work. With a huge set of followers on social media platforms, her advice for the aspirers is, "Be patient, stay consistent." Having launched her own line of skincare and makeup products in 2018 called CS essentials, Chandni Singh aims to make products that are natural, vegan, and cruelty-free while stressing on the importance of Make in India by going #VocalforLocal. She is a true influencer who believes in the art of balance and makes time as a fashionista, to guide her clients and everyone with suitable advice or a tip now and then.