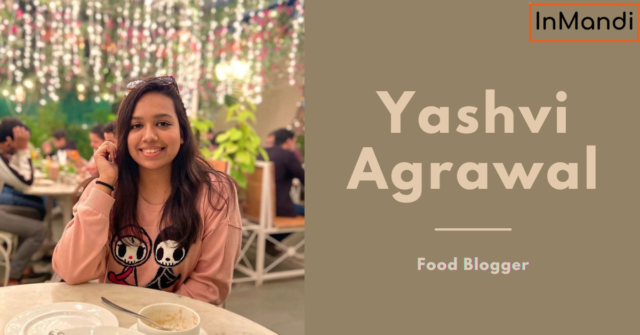 Yashvi Agrawal AKA Sinful Hogger on Instagram is the new internet food blogger who is raising the taste buds of her devoted audience by posting lip-smacking content every now and then. Yashvi has been born and brought up in Delhi and always had a knack for posing and clicking pictures. She calls herself a born poser as she used to enact several poses as soon as her father took the camera out.
On the professional facet, she pursued a bachelor's in Business Administration and simultaneously started blogging in her college days. Her sheer love for food and trying out various delicacies led her into the world of blogging and that led to the inception of her Instagram 'Sinful Hogger'.
Yashvi's delectable Instagram!
We asked Yashvi to spill some beans about her Instagram and how is she managing to post such flavorsome posts and how it all started. And here's what she said. She shares that perennial love for food pushed her towards taking up her passion on a professional level. Her major influence in this process was her elder brother who acted as a mentor and a guide. she states that her family had been truly supportive and because of this she also took up influencer marketing as a career option to churn out her bread and butter
According to her, the journey has been absolutely eventful and fascinating right from the time she started, that is June 2016. She also emphasized on the fact that it wasn't thematic and she used to post raw pictures and that in a way helped her connect to her audience. They always adored how genuine and honest she is in her work. She loves connecting to various people via DM or converses in the comment section.
The moment when her conscience swelled with pride!
She was truly ecstatic when she was invited to Delhi Technological University as a speaker to talk about her journey as a social media influencer in the niche of food blogging. It was a matter of pride for her to talk about her journey and how her story started. She reminisces that day even today; the happiness she feels is unbeatable.
Weaving internet stories!
Yashvi shares that she keeps on encouraging new talent on social media. She motivates them to never give up and to relentlessly churn out content. She also suggests that you'd never know what might work for you and turn out into something big. She expresses that social media has turned into a toxic place nowadays because many people are falling prey to wrong tactics and are polluting an honest place. Also, the trolling and bad-mouthing has been increasing day after day which is demeaning and demotivating to many of us. But on the contrary, the validation and love received over social media is huge and can boost your confidence too. It's all about how you take it, states Yashvi.
A sneak peek into sinful hogger's personal life!
Family is her topmost priority regardless of anything. Everything right from their health, wellness, peace to happiness is all she always prays for. She calls herself a balanced person and that's why maintaining her personal and professional life simultaneously occurs naturally to her. Apart from this, she absolutely loves chatting with people for hours together as she is always hunting for stories and it gives her immense satisfaction when people pour themselves out in front of her. Her taste buds dance in excitement at the sight of a north Indian cuisine. A bowl of dal makhani can definitely fix anything!
And last but not the least, she loves binging shows or movies with a bowl full of popcorns in hand on weekends.
Pandemic musings!
As an individual, Yashvi is of opinion that the pandemic will have a long-lasting impact in almost every sector. But the digital space is going to thrive by leaps and bounds. As our foodie explains that initial 6 months turned out to be really productive as she started posting recipes and her content stood apart from the rest. She states that there is cutthroat competition in the market and to rise above you need to maintain exclusivity and USP. Patience and consistency helped her attain success and the feeling of contentment.
Bits of Advice with a tinge of cheese!
To all the newbies, Yashvi shares a crisp mantra to follow, "Never give up". She urges everyone to go get what they like and it'll definitely come to you someday. Also, she states that if you really like something and have a strong passion for it then you should overcome procrastination and start today.
That was Yashvi Agrawal's scrumptious journey and how she turned her passion into a profession.