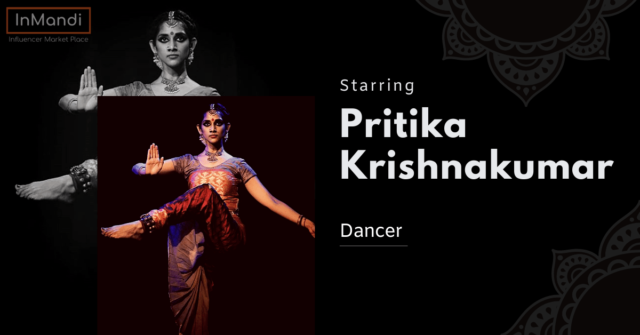 Pritika Krishnakumar journey from a child who was mesmerized by dancers on stage, to having tons of followers on her Instagram and a noted Bharatanatyam dancer.
Pritika's fascination for dancing grew at a very young age of three when her mother took her along for dance shows around the city. She recollects the first time she consciously fell in awe of dancers at a show which depicted India's mythological tale of the victory of good over evil – The Ramayana.
Pritika's mother was always inclined towards dance, but barely got an opportunity to learn it. She was extremely thrilled when her daughter took initiative to learn a dance form and gave her all the support and encouragement to let Pritika learn Bharatanatyam.
Since a very young age, Pritika's father would drive her twice or thrice a week to her classes which were quite far away from her home in South Bombay. At the age of 12, Pritika, under the tutelage of Guru Jayashree Rajagopalan had her Arangetram, which she recalls the most nervous she ever was on stage.
Eventually, her parents and she had a discussion about her further studies, where both of them came to an agreement for her to complete her education. She then chose to pursue Psychology and went to The United Kingdom to complete her Masters in Psychology. She later started working as a counsellor, but her calling always remained dance.
Upon moving to Bengaluru, she started working and pursuing dance alongside. She started to learn from Rukmini Vijayakumar. She kept practising dance, and never let anything stop her from performing on stage.
Pritika's gratitude towards her parents is extremely high. She realises that they didn't let anything come in between them and her passion for dance. When it came to her pursuing dance, everything was taken care of by her parents.She decided to join Instagram in 2016 when her account was Private. On receiving advice from her dance crew members, she made her account public and started posting videos of her dancing. She slowly started growing and her videos started reaching to more and more people.
She believed that she was motivated by herself, but on days she felt low, she turned to her Instagram to garner positive feedback.
She started performing in Bangalore in 2019 as a soloist under the guidance of Guru Rukmini Vijaykumar. Pritika plans to start teaching dance in the coming months, a plan which was hampered by the lockdown imposed due to the COVID 19 pandemic. Her advice to budding dancers is, "Do not let happiness get away from your dance." She firmly believes that happiness should be the driving force behind dancing, and it is vital to be disciplined in practising and that no one became a great dancer overnight.
Pritika also believes that it is important to pay heed to children who want to pursue a career in dance, and it is important for parents to support their dreams financially, yet being very practical about a potential future. Her parents gave her the right direction when needed and she encourages all her fans to spread love through dance.