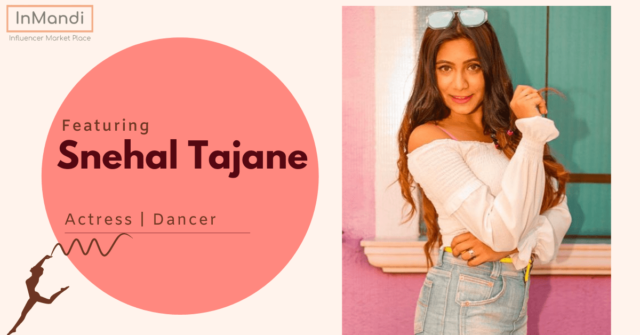 Tapping to the music of 'life, Snehal is fun-loving, a multi-tasker and most importantly swears by a 'never-give-up attitude'. She believes this is the age to struggle and isn't distracted by young adulthood fads like weekend parties. Hustling from morning shoots to perfecting her dance moves and also progressing at her corporate job, Snehal ensures she is a perfectionist at everything she does!
Turning the Impossible to Possible
We usually hear of bloggers taking years to garner a following base but Snehal did it in just a year! What is the secret to that? She says "networking and commitment to work".
Snehal is an ideal example of 'smart working': she picked out her strengths of dancing and charisma to introduce herself on Instagram followed by attending events to network with professionals and get collaborations. Since she is caught up with her job at Capita during the day, she plans early morning and weekend shoots to always be in sync with her career as an influencer.
Snehal did her first photoshoot in December 2018 and from that time till now has committed herself to paid collaborations with brands like thewassupflea- a flea market platform where she promotes their on-ground exhibitions through photography. Additionally, she has also collaborated with Exit.que, Phoeshons, Tbpindia.in, and occasionally does shoots for famous malls in Pune like Phoenix Marketcity and Aerocity.
Practise Makes You Perfect!
The biggest challenge for any performer is stage fear but Snehal overcame that fear a long time back. Her parents enrolled her in dancing classes when she was a kid and from that time she loved performing on stage, never fearing it. To date, Snehal attends weekend dance classes and gets training from her dance master Kunal More who guides her choreography at every step.
Her passion for dancing is always lit as she watches unlimited YouTube videos to pick up unique steps and runs it through Kunal. However, Snehal remarks "I am confident about dancing but if you throw a new challenge like anchoring, I might take time to adapt to it. Therefore, practice is the key to confidence!"
Identifying Your Goals!
Snehal's success is partly because of her clear vision and mission. From the start, she clearly identified what her goals are. For instance, during high school, Snehal ensured she was on track with her goals to become an engineer and was detained from her dad's advice of pursuing medical. We often get bound by pressures from parents and friends, but for Snehal she always listened to her inner self before making any decision.
What keeps her mind so focused and positive? Simply by staying away from negativity and putting her focus on her career. She says "negative comments on my Instagram posts don't bother me. I look up to celebrities like SRK and Aishwarya Bachchan who completely ignore all the negativity on their social media and keep going!" Her goal also includes delivering 100% satisfaction to her clients with her outstanding work commitment.
Snehal's Bright Future Has a Lot More in Store!
Snehal's plans include starting a YouTube channel and launching her dance video. She hums the song "Jugni Hey… Udi Hey…Dil Mein Ghar Kiye…O Pinjra Khol, O Pinjra Khol O…" from the movie Queen and wishes for everyone to spread only positivity even if we are stuck in the COVID pandemic. Her mantra is "Let loose and enjoy life, there is never a dead end and the future has a lot in store."
Find her on Instagram @ snehal__tajane