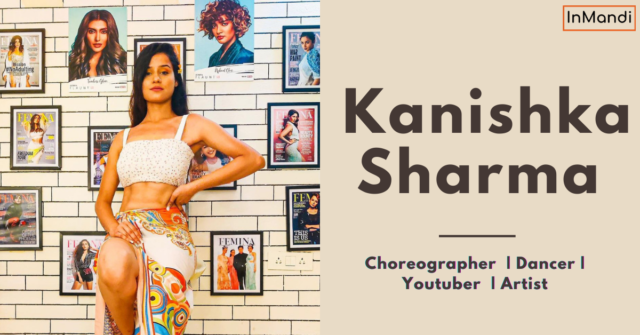 When you make your passion your life-path, no problem is too difficult to cross. Kanishka is a self-taught young dancer and influencer hailing from Ghaziabad. Coming from a middle-class home, passion was tough to pursue. With a conservative family and society, Kanishka was not encouraged to dance. She was the only child of her parents, and hence, she was pampered and protected. Nonetheless, Kanishka practiced her moves without anyone taking any notice. As they say, where there is a will there is a way.
Life Struggles
Problems came up in the family, as her mom was diagnosed with breast cancer, and the treatment was becoming too expensive to handle. Kanishka finished a correspondence degree with BCom, and was the only support of the family. She realized that she could use the time to do something that could be profitable. Kanishka decided that she could use her knowledge of dance to teach young kids.
Realising Her Talent
It was a young age to earn and become independent. Kanishka used to teach 50 students when she was 17, and she has pursued Fashion Designing from Mewar University. She handled all her expenses after finishing her 12th. Dancing was still a side-hustle that Kanishka did for her pleasure. As her mom's health got better in 2014, the family was getting to a better position. The happiness didn't last long though. An unknown cause killed her mother in October 2015.
Kanishka became very depressed after this catastrophe, and dancing became a successful coping mechanism for her. It was one of her students who recommended her to post a dance video on YouTube. The talent and passion of Kanishka were very well appreciated, and she kept on doing it for the love she received. As she says, she got quite addicted to it, and therefore, she kept creating content. Very soon, her post was retweeted by Sharukh Khan, Sunny Leone, and Red Chilli Entertainment. This boosted her viewers into millions. This was when Kanishka realized that if King Khan found something in her dance, she should pursue it full-time to reach unimaginable success.
Achievements
Even though her family has had issues with Kanishka posting her content on social media, they finally noticed the young dancer's star potential. She had already reached 15,000 subscribers on YouTube by then. She became more and more confident despite negative comments on social media. Now, she has a family of 2.3 million subscribers, and she keeps working hard to keep her fans satisfied. She has also done various collaborations with artists to teach celebrities like Shilpa Shetty and Govinda.
Work Ethics
Kanishka made a meticulous goal to create a dance video for every new song that was released. She believes that as the competition increases, influencers need to level up their game. Her mantra for success is that one should never stop. No matter how tough it becomes, you must keep doing what you like to earn the success that you want. Patience and hard work are very important to her.
Kanishka's mother dreamed that her child would become a famous woman who is recognized by everyone. Kanishka cherishes her memories across each event in her life. Despite financial struggles, money was never a guiding factor for Kanishka, as she gained more and more fame. She is hugely inspired by actress Kangana Ranaut, who also became very successful as an independent woman from a life of immense difficulties. Kanishka has become a symbol of passion and hard-work for young artists and girls who want to pursue their dreams.