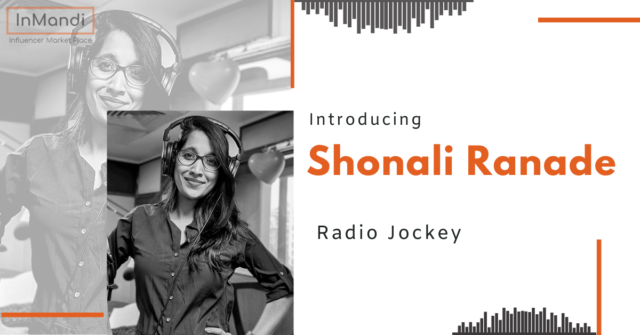 RJ Shonali, the famous voice on Pune's Radio City 91.1 treats everyone as her friend and disregards the title of calling herself a 'celebrity'. This self-made inspirational woman is flooded with love and messages on Instagram and her energetic vibe brightens up every listener's mood.
RJ Shonali's Inspiration: Barkha Dutt!
Shonali is grateful for having the full freedom to choose her career path. She enrolled in a BBA course which was the most trending one during that time but always had the urge to do something 'fun'. That's when she read up about journalist Barkha Dutt's journey: the daring and prominent reporter who covered the frontline of war during the Kargil War. Seeing this zeal and burning fire of courage, Shonali imagined herself battling with courage just like Barkha Dutt!
She was interviewed for an on-campus opportunity with 'Akashvani' and immediately got selected to be an announcer for their shows. Shonali had a natural flair for public speaking as her mother encouraged her to give speeches about freedom fighters for school events and she notes that her maternal grandfather was a freedom fighter too. She laughs and says "The Barkha Dutt spirit is in my genes." Shonali has always been up for thought-provoking challenges. For instance, her most famous campaign which is titled 'Chameli ki Azaadi' included a path-breaking interview session wherein she spent 5 days interacting with sex workers and discovering why they would opt for this profession. She realized that they were getting paid more as a sex worker than any other slavery job and did it for financing their family. Through this campaign, she tried to bring about a change by spreading the message of "society needs to accept and respect particular things."
Shonali's Secret to Happy Vibes: A Heart Filled with Gratitude!
Just like all of us, Shonali also had her cup of struggles and hard decisions to make. Part of Shonali's success lies in her alertness and quick decision making. For instance, after her graduation, she enrolled in a Mass Communication course and soon got a job at Lok Mat as a sub-editor which she realized is not apt for her and immediately quit.
"Wait for the right opportunity, it will always come around" she comments. Shonali took up an RJ job with Red FM in her hometown Aurangabad and also made a quick decision of getting married at the ripe age of 23. On getting an opportunity with Radio City in a different city-Pune, Shonali spoke it out with her in-laws and convinced her husband to shift with her to Pune. "Never let an opportunity go in vain" is her mantra for life.
She calls herself a self-made woman who has worked very hard' and we agree! Her growth on social media is organic as people from all over the world can now connect to her directly. Her message to all aspiring RJs is "Find your niche and be your unique self. Don't try to duplicate someone else. Believe in yourself and get going!"Shonali treasures moments like her first celebrity interview which was with actor Swapnil Joshi, her short appearance in Ritesh Deshmukh's film 'Yellow', and the realization of the fact that she influences a lot of people. Shonali says " For me more than monetary gains, it was the work that I enjoyed thoroughly. Getting a job as an RJ is very difficult as openings are very less and I am lucky to entertain the city of Pune from 5 to 9 every day."