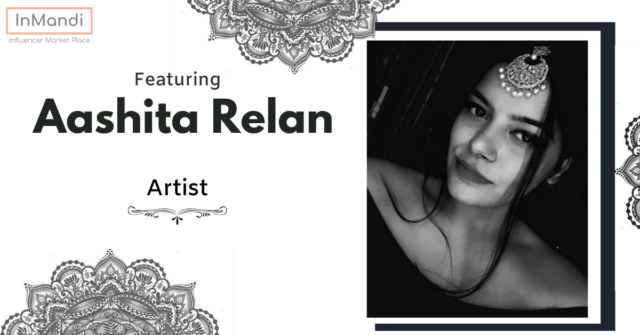 "Art is free to flow!" says the youngest artistic queen Aashita Relan whose Instagram page is a sketchbook of beautiful portraits carrying a message about the latest trends. She is often attacked by critics who misinterpret the meaning of her art which every artist can relate to but Aashita's way of tackling this situation is commendable.
The Thin Line Between a Designer and an Artist
Aashita believes that art is a very vast field and comprises many career opportunities. She was gifted with the talent of art and used it for designing. Her prized possession which is her 9th-grade sketchbook comprises a portrait of costumes inspired by the band 'Beatles'. Despite this inborn talent, Aashita did not want to take up a career in fashion designing because she wasn't fascinated by it.
Instead, she gave in to suggestions by people in her surroundings and took up a challenging career in architecture. Aashita flourished with flying colors during her graduation years and did an internship with the company 'Creators' which was into designing government buildings. Her academic excellence got her a job at interior house 'Verve Interio' where she was highly appreciated by her bosses as well as clients and gained quick promotions and pay hikes.
Even during college days, she won various design competitions and has bagged 'The 2016 Photo of the Year' at Shutterbug for her photography. However, Aashita felt that something was missing! She found her work-life very monotonous and broke down realizing that her drawing skills were diminishing under the pressures of corporate life. Aashita is now a freelancer and takes up all design projects which includes a recent product designing assignment for an Ayurvedic company. Noting her work experience so far, she describes herself as a designer and not an artist.
Facing the Social Media Bullies!
Aashita's Instagram journey began in the year 2013. At that time, she explored another field of art- 'street photography in Delhi' which is why her Instagram page is named 'delhicious'. She laughs and says "I have been approached by so many food bloggers to give up my username but its mine and will remain mine forever."
Aashita paints pictures inspired by current affairs like 'LGBT', 'StarWars', 'Atmanirbhar Bharat', and many more. As some of her topics are political and delicate issues, she receives an abundance of comments and DMs criticizing and threatening her art but she doesn't give up. People have approached her saying why does she only paint women in saris and not burka? But she gives no heed to such comments as she believes that art should be free.
She says "the world is filled with inspiration and ideas. My artistic lenses recently got inspired by Arun Jaitley's house on TV and I used that as an inspiration for my next art piece."
Aashita Paints her Future with Bright Colors!
Raps and punk music blend in with Aashita's high creativity life condition and she finds Cardi B as a great influencer because of the dare she portrays. At a young age of 25, Aashita is extremely mature to realize that everything in life has a reason and there is a learning lesson behind everything. Her plans for the future include turning her freelance work into a company.
She worships the animated art of Odisha and Karnataka remarking that "India is full of art and the talent is boundless! I was amazed seeing a video of the art of weaving on a dried leaf and it stuck in my head. For me, the profession of an artist is the most fearless and boundless one!"