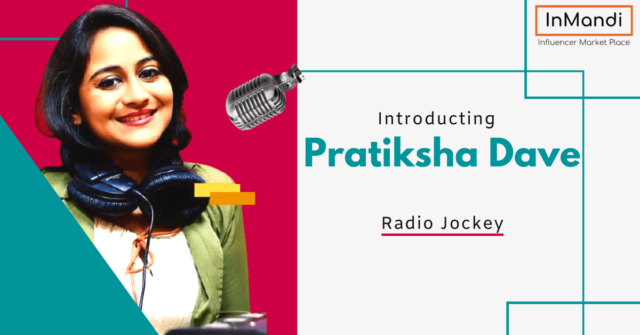 An outburst of early morning positivity and entertainment for Suratities, RJ Pratiksha's mantra is "Jiyo Dil Se". Pratiksha wears all hats of the radio industry from being a morning RJ at My FM to doing the back-end job of a promo producer and copywriter at the radio station. Pratiksha's journey of 'chasing your dreams' is an inspiring tale for all aspiring media professionals.
Pratiksha: The Epitome of Hard work and Determination!
Pratiksha's jolly family of 3 sisters and parents are the backbone of her career. She notes "Public speaking was never my inborn talent. In fact, during my school days, the only activity I was part of was a side drummer and flute player of the school band. At that time the concept of a private radio station and a role of an RJ was quite under the books but I was somehow very fascinated with the radio medium and was sure that I wanted to be part of this industry."
After completing a degree in Law, her stepping stone to the radio industry was a Mass Communication course. She was amazed to experience that media is not just restricted to the radio, media has an ocean of opportunities, but her dream still floated around the 'RJ job'. This enthusiasm fuelled her energy and she gave her 100% in a 10-hour internship without even earning a stipend. She says, "At that time I shut myself from negative comments when my friends advised me to get a job that pays, but my goal was to enjoy the moment I had dreamt of, and gather knowledge about the radio industry. My advice to all youngsters is that treat your internship as a free training model- you could never get such hands-on experience in a college course."
Transitioning from a regular outgoing girl to an extrovert was built with time when she noticed how much people paid attention to her show. She remarks, "To be an RJ loved by all, the key is to be yourself!, Every person is interesting, just bring out that element from your soul."
Adjusting to the erratic timings of a media professional, Pratiksha would initially get a little scared with late nights, but she overcame that fear because of the love for her work.
.
How Family can be the Pillar of Support!
Pratiksha's parents constantly motivated her dream. She laughs, "My dad once told me: Dear if you want to be in the media field don't ever look at the watch because there is no fixed timing in this job." She adds, "During my internship years my mom would say you are getting to learn, don't give me an account of money but I want an account of your time."
Experiencing such amazing support, Pratiksha advises all parents to give their girls freedom and build a relationship of friendship with them where your daughter can come and tell you everything.
Additionally, she believes that the society should make women feel safe and recalls an incident, "I had once taken a cab during late night hours and to my surprise, the cab driver showed so much concern towards how I would return home during this time and agreed to pick me up after my shift. There are always helpful people around us."
Pratiksha's Plea: to Make Surat a Happier Place!
Pratiksha's favorite part of her job is her on-ground CSR activities like 'Plastic Bharat Chodo', 'eco-friendly Ganpati', and 'Traffic Control' to contribute to her environment.
She comments, "self-awareness is a very important trait for every individual. I remember a time when someone used abusive language against me on Instagram and one of my followers reported that account. I wish to be always this self-aware and fight against any injustice."