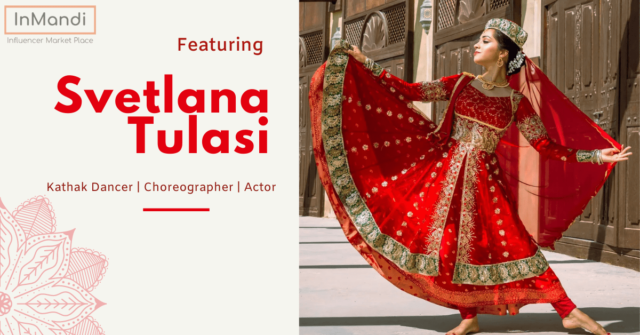 Svetlana means 'light' in Russian. She deeply connects with her name. She feels like it reflects some part of her because she wants to embark love and knowledge through her dance. Svetlana has embraced her journey from never willing to get into the Indian Classical Culture world to being a professional Kathak dancer. She believes that everything done by heart and determination will always pay you back ten- fold . You have to be fully focused towards your goal, rather than getting bamboozled by the noises around you.
How did "Indian Classical Dance" fall into her pocket?
Born and brought up in a blended Indian/Russian family, her parents asked her to cherish her roots. Every parent wants their child to never forget their origin and culture. At the age of 9, Svetlana started dancing. She got enrolled in Jawaharlal Nehru, Cultural Centre, Moscow. The initial two years were a scuffle for her; she struggled to weave the connection with this new dance style, but it didn't happen, so she abdicated.
Kuchipudi was also served in her plate, but she didn't catch the vibe there too. Her parents never gave up finding the best match for her, and then entered the most resourceful teacher in her life. Guru Ji Yekaterina Yurievna Seliviorstova (Katya Ji). It could have never been possible without Kathya Ji. There's always one person in our life who directs us on the right path or shows the best side of the thing that we just hated a few minutes ago. It is how Kathya Ji played her role; she not only taught her dance but gifted her all knowledge and directory of Kathak.
Kathak as an integral part of her life.
Her education in college was something opposite to art; she was studying Finance. And while working, she also worked in Top Contact Executive Search, Moscow, for five years. Starting with the Assistant Human Resource Manager to Project manager, she verified her intelligence here too.
She quotes that "Everyday rise with new hope, and learn a new lesson".
Her first show Ukraine Got Talent Tv happened in 2013. That was the kick start; she bloomed on the stage with the true colours of Kathak on a Bollywood Song. The audience served her immense amount of love. There she realized what she was missing. Kathak is her happy place where she can spin around and never get exhausted.
She quit her job and started taking workshops. The first workshop was held in China in 2015. After Ukraine Got Talent, she also did many other popular Tv shows like Dance Plus, So You Think You Can Dance.
Svetlana believes that you can learn daily; while teaching others, she was not teaching them, but she was also improving herself. Every choreography was making her crisper in Kathak's moves and expressions.
Her first interaction with Kumar Sharma.
In 2017, she participated in Russia's Got Talent and reached the Semi-finals. It was the second biggest breakthrough of her dancing career, It took her to the semi-finals, where she decided to perform with Kumar Sharma.
Kumar Sharma is a very talented Kathak dancer from India; he knows how to blend Kathak's emotions


Svetlana is a woman who listens to her gut feelings; she decided to get him on her own money from India because the show didn't pay for the expenses. Upon his arrival, the duo started the preparation. They performed together in the semi-finals.
The video of their semi-final performance exploded on the internet. They captivated the audience by their graceful and polished Kathak moves and more importantly their chemistry.
Kathak is all about playing with your facial expressions.
Many of us feel that Indian Classical dance is outdated, and don't consider it as a form of entertainment. But people abroad want to dive into Indian Classical Culture. Svetlana being a Russian, appreciated Indian Classical Dance. She can define Kathak in its purest form. Kathak will help you in narrating the story to the audience.
Her love for Kathak is inevitable. She also tries different fusions with Kathak so that people can never get bored of it. This fusion gained her popularity all around the world. Her social media accounts show the beauty of Kathak and how beautiful it is.
Her ideas to promote Kathak
She believes that if we will step out of our cushy box, we can do anything. It's just about that one step. She knows that better fusions in Kathak can make it a more beautiful and exciting art. She would love to see Kathak flourish in Cinema because from there we can change the mindsets of the people. She wants to mix Kathak with Bollywood, and then it will be more exciting for anyone.
One song always resonates in her mind, "But before you come to any conclusions, try walking in my shoes" by Depeche Mode.