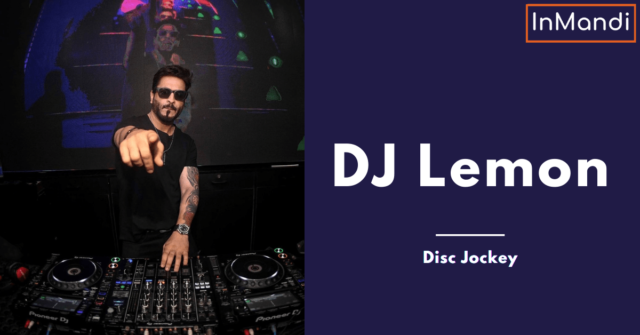 Anil Chainani popularly known as DJ Lemon, is the founder of Lemon: Music & DJ Academy and teaches music enthusiasts the way to reach their goals.
He never received any formal training in music.
'It was all just countless sleepless nights of practising and mixing music' says DJ Lemon.
"Having collaborated with famous industry artists such as HONEY SINGH , BADSHAH ,DJ SHADOW , DJ AQEEL ALI and many others, his creations have had an everlasting impact on the audience.
The First Hit
For DJ Lemon, it was YouTube which served as the ultimate playground for testing his mixing skills and understanding of music. As luck would have it, his mashup of Bollywood song 'Tere Liye' and Edward Maya's Stereo Love became a hit among the audience garnering over 6 lakh views.Also 'Dua'Remix has made 3 million views.
There was no stopping DJ Lemon after this, and he continues to deliver hits such as Yo Yo Honey Singh Mashup, Phir Mohabbat and Tujhe Sochta Hoon.
Incisive moments in the career
There is an array of DJs out there with each one having their style of play. Indeed, they have the skills to remix and play with music, but what DJ Lemon brings to the table is that learning about the music preference of the audience to provide an authentic experience with his compositions indeed.
You learn a lot about people when you hear their song choice' says DJ Lemon. It's his sharp ability to distinguish between the music preference of the audience and institute approach to work which has earned him fans in India as well as different parts of the world.
How interesting is being a DJ?
Being a DJ requires passion, creativity and an unending quench for the perfect composition of music. DJ Lemon seeks to communicate emotion on his current career path and wants to discover music which people haven't heard before.'I want people to dance and be happy, every time I hit the console' says DJ Lemon. It is for this reason he learned the different styles of music rather than being stuck with electronic music. While preparing for a gig he works to browse a collection of old and new music. Then it's all the routine where he brings in his selection and plays all his tracks.What he loves the most is to see how the audience enjoys his tracks and how everyone groves to his tunes. For DJ Lemon, it's essential to have a real relationship with music.As per DJ Lemon, 'Without having a real bonding, it can be difficult to understand the different music compositions'. This is what he even teaches to his students and young music enthusiasts who aspire to become a successful DJ like him.
Approach as an Artist
DJ Lemon is thriving today, only because of his ability to read the audience. He enjoys what he does as an artist. 'Being an artist can be tough, sometimes you're lonely and stuck with a composition for days. But hey it's equally rewarding', says DJ Lemon, with a big smile on his face.