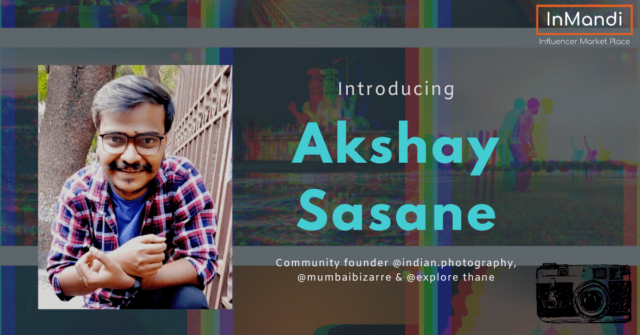 Armed with a few camera phones and lessons from the internet, Akshay Sasane is a young photographer who has grown a large community of followers across his three successful Instagram pages. His love for photography and the need for learning new things has allowed him to turn his passions into a profitable job.As a young child, Akshay remembers his first contact with a camera – when his father purchased a second-hand Kodak. The camera would be used on every festival or celebration, and Akshay learned to associate these events of happiness with photography. After he finished school, his father gifted him a phone. With this , he scoured the internet for anything he could find related to photography. Later on, he finally received a camera phone that he started to click pictures on during his college days. Social media wasn't so widespread at that point of time, and Akshay didn't know of any platform to showcase his passion. Finally, he discovered Facebook pages and set one up for his photography – A. Arts. He spent the rest of his college days clicking photos and uploading them to his page. He even used to edit pictures for his college friends, on the condition that they leave his logo on the picture. In a few short years from this humble beginning, Akshay Sasane would soon be the founder of a large photography community online.
Akshay started pursuing a B.Com degree, and it's around this time that Instagram was launched. He recalls watching the movie 'Wake Up Sid' and how the photographer Sid, showcased his work in a magazine called Mumbai Beats. This was the inspiration for Akshay's new Instagram account – Mumbai Bizarre. He says that he wanted to capture Mumbai's crazy chaos, like the crowds in the train stations, and thus the word 'bizarre.' Not long after, this page started growing and it currently has a massive 34k followers. Akshay decided to take this further and created another page called Indian Photography. Here he would repost other photographer's works if they tagged his page. This grew very quickly, and today, if you search the hashtag 'Indian photography', you will see millions of tags and posts. Akshay could have started brand collaborations at this point, but he says that he remembered something important from Mark Zuckerberg's movie, 'The Social Network'. He said that in the movie, Mark decides not to put advertisements on the platform in the movie until the community grows. In the same way, Akshay only started accepting collaboration when he gained a 200k strong community. He happily recalls his first salary of INR 2000 for clicking photos for a phone brand. From there, he received many more offers and his page kept growing. He even recalls being mentioned in a magazine as one of his proud moments.
The most impressive feat is that he even learned how to create a website, SEO marketing and digital marketing on his own through Youtube and blogs. He says that he never thought of applying for a formal course when all the information was available online. Akshay is an amazing example for this generation, as his sheer willpower and dedication enabled him to learn everything by himself and helped him set up a strong online presence that has now grown to over 400k. But he doesn't stop there! He has another page called 'Explore Thane', where he posts pictures of food and things to do in Thane.
"I didn't start this to be famous or get success. This is why I don't show myself on any of the pages." Akshay is very down-to-earth and prefers to showcase his work, keeping his face out of the spotlight. He had set a 6-month target for himself to see if he could make a living with his photography pages, and if not, he would start a job again. After 6 months, however, he never looked back.
Akshay Sasane is someone who believes in himself and is dedicated to growing his skills. He reads a book a month and encourages the youth to keep reading blogs because he believes that's where the real knowledge lies.
His final advice is to follow whatever you have a passion for. Stop chasing success and do what you love. "If there's a passion for something, then there will be success." Akshay will definitely reap the fruits of his success, and we look forward to seeing many more projects from him.