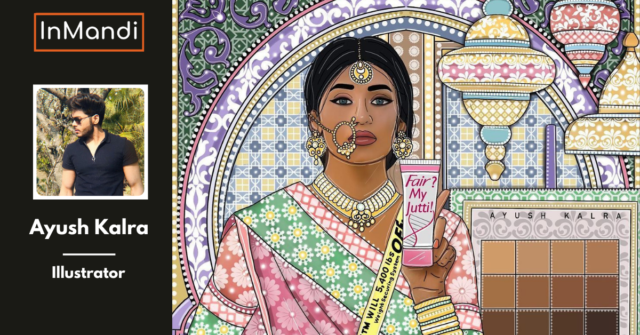 ART FEATURED:
Illustrations 
ART FORM IN GENERAL:
Illustrations are created using various software and digital tools. They are not rigid and one can create them according to their own creativity flow or imagination. 
THE TALE BEHIND "FAIR MY JUTTI" :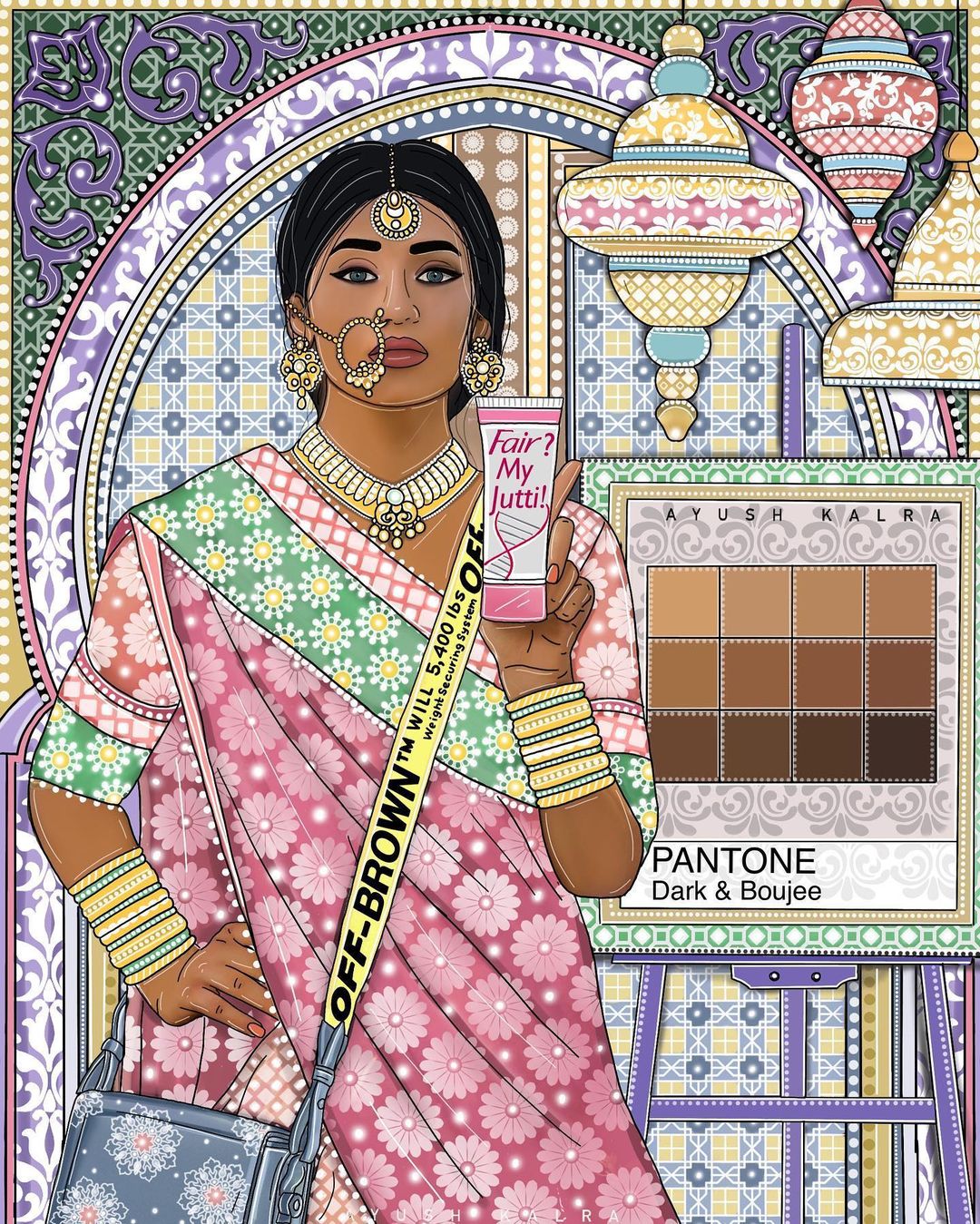 This was one of Ayush's path-breaking illustrations that were shared by more than 1 lakh people all over Instagram. It was widely acclaimed and appreciated for its sheer honesty and the way it broke the stereotype that had been prevailing in our society for decades now. It portrays a brown woman holding a fairness cream with "fair my jutti" inscribed on it. It spoke volumes about the stereotypical notions we've set and, how these cosmetics companies leverage their income out of it. Ayush feels that art is a personal act of courage, something a human does to change the society. He conveyed the greatest message through this particular artwork as the issue had seeped deeper into our society and it affects the mindset of people to an extent. He broke the prejudice and powerfully exclaimed that skin color is something you should be proud of and not fall prey to society's bias of being fair. Loving yourself in your shade is the highest liberation you can attain. 
A MAZE OF THOUGHTS:
Ayush shares that it takes around a month to develop an idea and then convert it into a design. Once all the ideas have been amalgamated and a framework is ready, it takes 3-4 days to finalize the piece. He describes that he gathers all the elements required for that particular piece on the blank canvas and steadily creates the piece. For jewelry and outfit recommendations he relies on his mother and sister. 
ABOUT AYUSH:
Ayush Kalra is a 21-year-old freelance artist based out of New Delhi. He pursued communication design from Pearl academy and that played an eminent role in shaping his career. He recently got featured in Cosmopolitan under The Spicy Noodle List as India's most noteworthy creators and personalities.  And also bagged the number 1 spot for Buzz Feed's 21 desi illustrators on Instagram. 
TWO CENTS OF ADVICE:
To all the upcoming artists, his only suggestion is to push yourself out of your comfort zones and try new things every day. He further adds that you may be not that good at first but practice will eventually make you better.
To wrap the section, we have a quote coming from Ayush which he has been religiously following since his school days, " Don't think about making art, just get it done. Let everyone else decide if it's good or bad, whether they love it or hate it. While they are deciding, make even more art."
AVAILABLE ON: