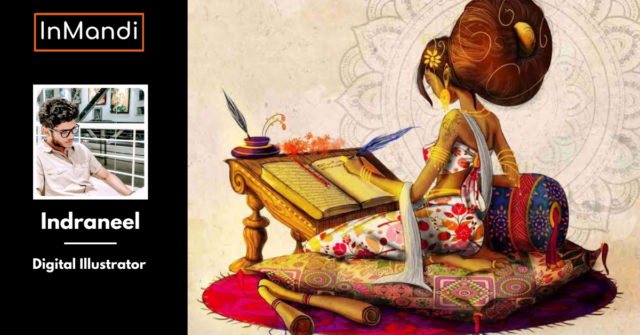 TYPE OF ART FORM: Digital illustration
Art Featured : Tirumalamba Devi
Art Form In General : 
Digital illustrations are created by using digital tools to produce images under the direct manipulation of the artist. It is basically a computer generated artwork wherein everything is created from scratch.
Thoughts That Ran Across Digital Canvas :
According to Indraneel, the art piece displayed here is strongly portrayed and carries the essence of its history. The inspiration for this particular art goes back to the carvings on the historical site of Hampi. The real idea behind the creation of this impeccable illustration was to delve into the history and understand the position of women in those times. Indraneel's aim was to weave a story and infuse life into it. He meticulously created this frame by paying attention to every minute detail. Since, this is the digital era, he illustrated it via technology without manipulating its intrinsic essence. Even though it is digitally produced it hasn't lost its aura and does carry the grace of medieval times. The composition of the whole frame is upto the mark and detailed. Every aspect of the illustration is given equal importance and vibrance. As we lay our eyes upon this piece of an art we realise the ancient aspect which is etched to it and also sheer determination of the artist.
Tale Behind The screen : 
Indraneel resided in Hampi for almost 2 years and that's where the inspiration stemmed from. He had extensively travelled in the region and carefully observed the culture, history and landscape. He researched a lot about facts and stories about the carvings engraved on the ruins and later produced this piece. He gracefully put all his thoughts together and emerged out with this extravagant output.
Illustrating The Artist: 
Indraneel is a digital product designer by profession from Bangalore, India. He hails from a visual background and that's why stands apart in his art form. To him, creating illustrations is a meditative and recreational activity. He has been an art virtuoso since childhood and aims to continue it till the road's end. He curates his art with precision and complete dedication.
Credentials :
Indraneel has won various credentials for his work. Some of his remarkable achievements are being awarded Mumbai city award in 2015, and Bangalore city awards in two consecutive years 2016 and 2017.
For Upcoming Artists :
Indraneel advises to draw something everyday for whoever wishes to excel at their brushes. Consistency is the main ingredient to attain success and expertise. He adds that one will evolve drastically at the end of each year.
Lastly, concluding this segment by a quote which imparts a huge learning, 'don't just be a skilled artisan but be an artist who creates an impact through the art.'
ART AVAILABLE ON: Instagram(@Indraneel_KD)