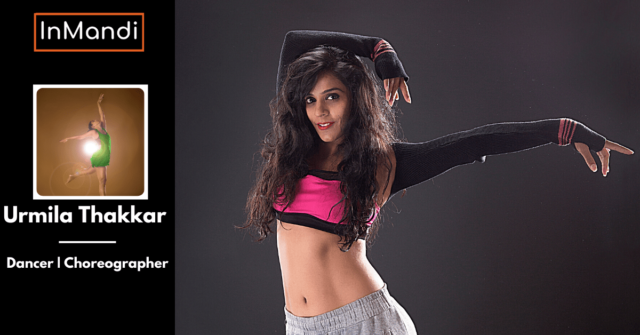 Art Featured: Bollywood style dance 
Art Form In General: 
Bollywood dance style is a hybrid form of dance which includes many other styles in it. It is energetic and creative and is a fusion of different forms. It is done in a freestyle manner with no major rules etched into it. It is the dance that comes from the heart.
Inspirational Grooves:
Urmila has been devout to dancing. She worships dance immensely and has inculcated a habit of improving and learning new steps every day. For her, it is a form of expressing herself and her emotions profoundly. She tries to weave a story by grooving on captivating music. Every day she visits her studio and the music leads her to create an impeccable piece. Music is her source of inspiration because she believes that it sets her soul free and lets herself twirl to the musical notes. Creating new pieces every day has become her passion and she enjoys herself the most in her studio.
The Process Of Choreographing :
As our dancer mentions that hours of practice and improvisation is required to choreograph a single performance. The first move is never the ultimate one. Urmila describes that she creates, rejects and then creates again. It is a rigorous process and is equally time-consuming. A lot goes behind the flawless performance that is delivered to the audience. Sheer dedication is the prime ingredient in the recipe for perfecting a piece. The rehearsals happen in the loop until you are satisfied with the final product. Along with this, flexibility and intense training are also important to sharpen your abilities. Determination towards your work will lead you to bring out the best in what you do.
Urmila's Journey :
Urmila Thakkar is a Mumbai based choreographer. She has been in the field for 20 years now and has been an instructor and performer with the renowned Shiamak Davar Company for over a decade. She has been trained in different styles ranging from Bollywood, hip hop, contemporary to Latin and belly dancing to name a few. She owns a dance studio called Tarang studio. She had the beautiful opportunity to train big celebrities like Madhuri Dixit and Neha Dhupia for shows. She also contributed as a choreographer for music videos for Badshah, Raftar, MTV, and several other production houses too.
Two Cents Of Wisdom:
Urmila advises anyone who wants to pursue dance as a profession to spend enough time with themselves. According to her, dance is a study that requires work and determination in abundance.
Lastly, she proudly quotes that, "Fall down 7, get up 8". This is her daily mantra. She urges everyone to keep going and never stop
AVAILABLE ON: Instagram ( @Urmila_Thakkar )