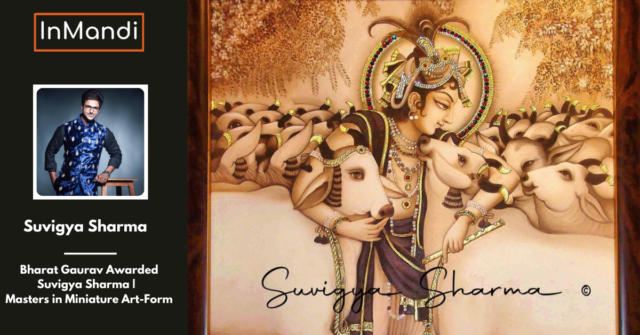 ART FEATURED:
Miniature paintings
IN GENERAL:
Miniature painting is a genre of art that focuses on paintings, sculptures, and engravings that date back to the historical era. The folk culture is conveyed through this art form. It contributes to the preservation of our history and culture.
SUVIGYA'S INSPIRATIONAL MUSE:
Suvigya proudly states that his paintings are inspired by the miniature art form which is the oldest art form in the world. Every piece of his derived from the history and roots of India. Through his art, he is trying to revive the Rajasthani folk culture which is full of grandeur and authenticity. His paintings are intricate and detailed and are amalgamated with his own style to adorn them with distinctive features. Suvigya commented that inspiration can arise from anywhere. Anything we see or feel becomes a source of inspiration. He has grown up around art and that naturally created an artistic instinct in him. Dating back a few years, he saw the need of reviving this miniature art form as it was a beautiful part of our history and it had to be talked about even today. With this goal running in his veins, Suvigya dedicated years to again infuse life into this precious long lost artwork. Today, he is majestically carrying the lineage ahead by bringing out exemplary pieces every now and then.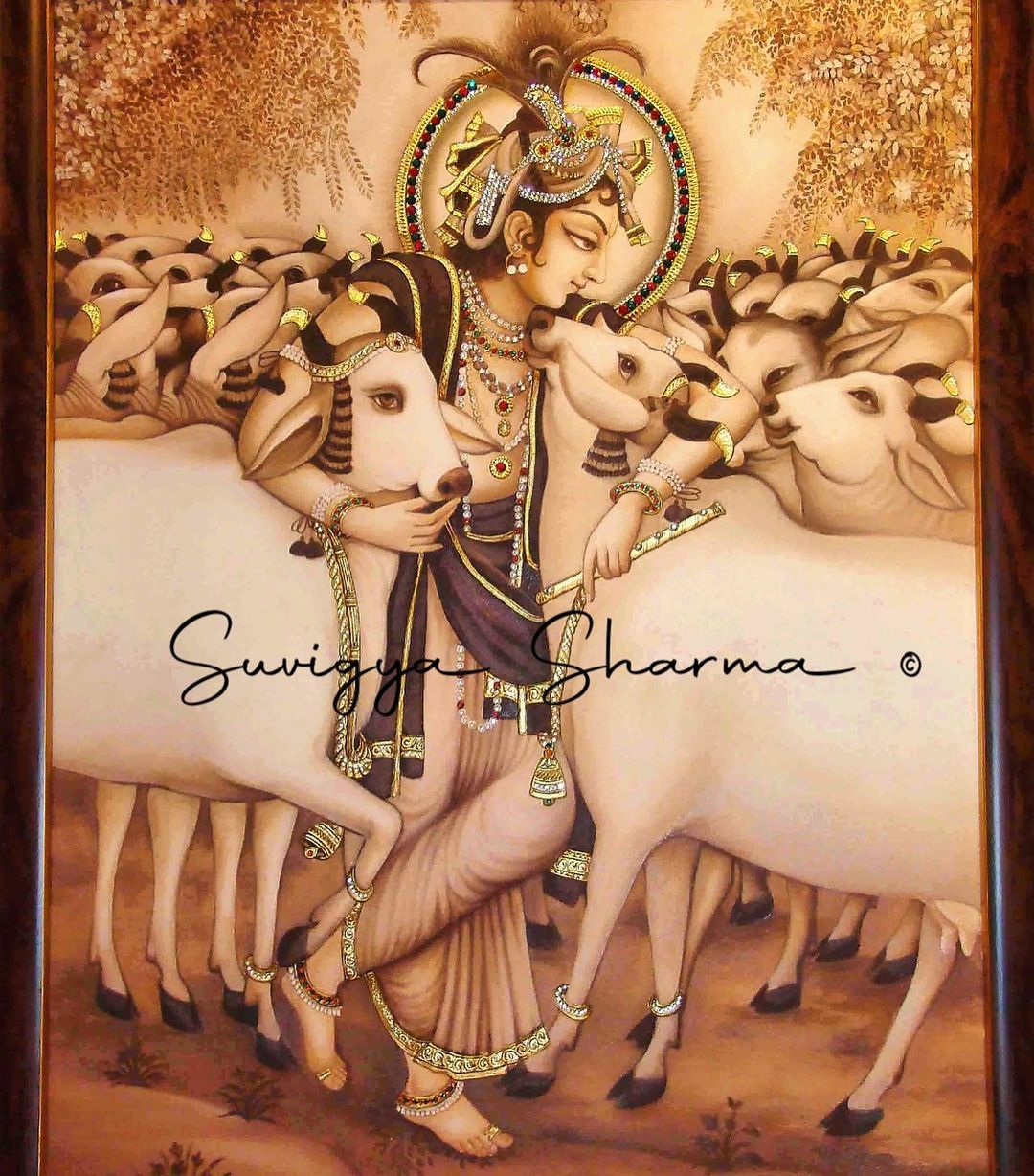 THE CANVAS STORY:
As Suvigya mentions that behind the scenes is the actual factor. He adds that the process behind the scene is continuous and long. The audience only views the beguiling output and devours the beauty of it. The process starts with the ideation and an empty canvas. It takes a concept and meticulous observation to bring out an intricate piece. It takes a considerable amount of time to curate the painting as every little detail has to be elegantly portrayed. Suvigya shares that the artwork may take time from 10 days to 6 months depending on the intricacies and aesthetics of the piece which is worked upon. It takes the utmost focus and sheer dedication to bring out a masterpiece. The process is long and difficult but while admiring the outcome, it seems that the blood and sweat have beautifully paid off.
ABOUT THE STAUNCH ARTIST
Suvigya Sharma is a resolute artist who is specialized in miniature paintings, life-like portraits, and frescoes. He devotes his time and skills to art customized projects. His family has been into this art form for 3 generations and now Suvigya is perfectly bearing the torch. He has been painting since he was 7 years old, as it goes into the lineage. He always had an interest in art but never thought of becoming a full-time artist but one fine day, his painting was loved and appreciated and that marks his start in the field. Now, he is recognized as the best artist in the country and he is eternally grateful for the journey and path he has embarked on.
CREDENTIALS:
Suvigya has received remarkable recognition and awards in his field. He feels fortunate to receive these awards. Some of them are the Bharat Gaurav, Rajasthan Gaurav, and several others which he proudly pays respect to.
FOR ALL THE UPCOMING ARTISTS:
Here is a bit of advice coming from our well-acclaimed artist. He suggests that if you feel you are really good at something keep practicing and showcasing it to your audience. Since we have online platforms now it opens a plethora of opportunities for you to showcase your talent and to stand apart from the crowd. He firmly believes that art can take you to greater heights if you devote yourself to it and the money will follow if you are true to yourself and your work.
As we come to the end, we are amazed by Suvigya's love and dedication towards his art. A stalwart artist like him is a blessing to the field of art.
AVAILABLE ON:
Instagram : @suvigyasharmatheartist