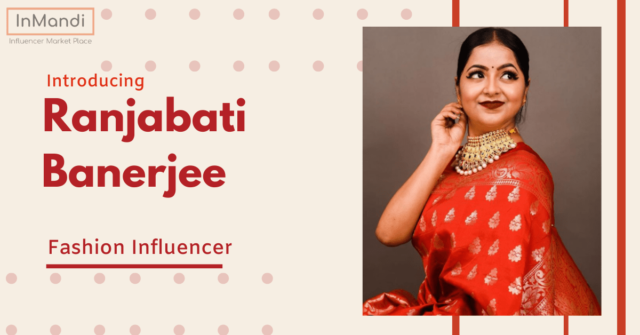 Ranjabati Banerjee, a Kolkata woman, owing to her roots is as obsessed with sarees as the Bengali community is. She's a model, fashion blogger and trained Bharatnatyam dancer. Ranjabati was also crowned Miss Talented in Miss Elenza West Bengal 2019.
Not limiting herself to these titles, Ranjabati is extremely fond of experimenting with saree fabrics and styles. Ranjabati fell in love with sarees at the age of 13. She has ever since been working her way around to get the best and most novel saree looks.
Ranjabati derives her inspiration from the fashion and beauty blogger, Komal Pandey, who layers outfits and styles; everything with utmost panache. "She's bold and experimental with her styles and that's what I like the most about her", says Ranjabati.
Ranjabati gets creative and comes across as equally dauntless with her styling methods. She wants to change the perspective of people who believe an old saree can not be used in modern fashion. To break through this pigeonhole Ranjabati uses her grandmother's sarees to play around and create indo-western looks from them. Older sarees have perhaps more grace and value in them than newer ones.
In fact, she takes it up as a challenge for herself to recycle and reuse sarees in a manner completely different from the original approach. She's of the conviction that sarees can always be played around with. There's no particular category or tag they should be placed under.
She has deep insights and knowledge of fabrics through her time in INIFD. Ranjabati puts across the point that each fabric has a different stay and display tendency. A silk saree will perhaps make one look plump, and a handloom saree will stick to the skin. Hence, there are ways you can avoid this by handling and redefining the look. She offers tips to women in the family on how to better wear a saree and use it as a strong statement.
Ranjabati also admires Deepika Padukone because she carries herself amazingly, no matter what the outfit. She's original with her style, and Ranjabati is of the same view. Ranjabati also exhibits western fashion on her Instagram and has a following of over 30K.
She's confident and loves her body, featuring herself as sensually as she can and not flinching about it. She has faced unsolicited and inappropriate engagement on her Instagram. On this, Ranjabati asserts, "Always listen to what people say but only do what you like. Stay positive and don't let insignificant people have significant effects on you!" That is where all the self-confidence builds up from. Isn't it something all of us wish to be like, too?